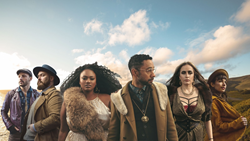 An alabaster statue would have two-stepped to that magic. - SF Weekly
SAN RAFAEL, Calif. (PRWEB) June 10, 2019
With Midtown Social it's time to stretch, hydrate, and double-knot those dancing shoes, because San Francisco's favorite soul party band is here to quench thirsts. Their freshly squeezed blend of California soul, funk and rock is downright irresistible. Midtown Social is a tour de force, but it's more than just a band.
Together, these musicians are a collaborative community of writers, arrangers and artists. When they're on stage, they invite attendees into the family. MTS serves up food for hungry souls — fuel for a revolution of free, open and creative thought and asks all to come together, find common ground, love & camaraderie, to fight for communities, way of life, and rights — to stand together as one.
They are black and white, queer and straight, married and single and represent the face of young America- and they are the new California Soul.
The venue offers pop-up restaurant dinners, Peet's coffee and snacks, cocktails and more available for purchase. The Kid Zone includes a playground and hands-on project for the little ones and festival shopping is made possible by Good Will Industries.
Boiler Plate:
What: New California Soul music, outdoors in a beautiful, safe, natural, and family-friendly setting.
Tickets: From $26. Kids 17 and under free. Details available at http://www.marinjcc.org/summernights
When: Sat. July 13 @ 7 pm. Doors: 6:15 p.m. Gen Ad/ 6 p.m. VIP/Reserved
Seating: Gen Adm turf or rear chairs. Reserved Table Seats, Cab Tables & Picnic Tables available.
Where: The Osher Marin JCC, 200 N San Pedro Rd, San Rafael
Parking: Ample free street and lot parking.
More: Dinners, snacks, coffee, tea, sodas, beer, wine, and cocktails available for purchase or bring a picnic. No glass or alcohol allowed thru gates.
The Osher Marin JCC's outdoor music series has been created to celebrate diversity, discover commonalities, and bring generations together through live music. Four consecutive Saturday nights of great music will take place under beautiful Marin Skies in an intimate and beautiful setting.
2019 Summer Nights Series
7/13: New California Soul – Midtown Social
7/20: Afro-Cuban – Ricardo Lemvo & Makina Loca
7/27: Americana Rock n Roll – Danny Click & the Hell Yeahs
8/3: Latin Big Band – Pacific Mambo Orchestra