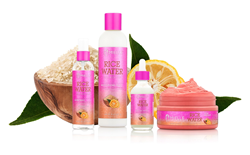 Purchase volumes were so high for the Rice Water Collection that it crashed the website.
ATLANTA (PRWEB) May 13, 2020
Mielle Organics broke the internet with the release of their new Rice Water Collection. On Mother's Day weekend, the surprise release launched a visitor influx of over 40,000 new customers.
Purchase volumes were so high for the Rice Water Collection that it crashed the website. The global beauty brand commemorated the launch by surprising 100 mothers with a special edition box set comprising the entire collection.
Mielle's new product line includes key ingredients such as yuza and rice water. Products include Rice Water Moisturizing Milk (a daily moisturizer which is perfect for bringing life back to dry thirsty hair), Rice Water Clay Masque (dual purposed masque perfect for detoxifying hair and body, Rice Water Split End Therapy (designed to strengthen and repair split ends) and Rice Water Shine Mist (perfect for hydrating rehydrating and refreshing curls).
The Rice Water Collection is Mielle's fifth addition to their product offerings. The collection was created to supply consumers with all the benefits of traditional rice water without the long process of creating the substance.
"I'm a research lover at heart, so when I first heard about the benefits of rice water for natural hair care, it sparked my interest," said Rodriguez. "After hours of discovering the process and amount of time that goes into creating rice water, I realized that I wanted to develop a more accessible product for our customers. With the release of the new Rice Water Collection, our customers can enjoy a product line that not only smells amazing but provides all of the benefits of rice water in one."
As a global company, Mielle Organics' mission includes promoting healthy hair solutions, entrepreneurship development and economical empowerment to women of color residing in the North America, Caribbean and African footprints.
All products from the Rice Water Collection can be purchased through the Official Mielle Organics Website, Target in-store, Target online, and Walgreens stores.
For more information, please visit http://www.mielleorganics.com.