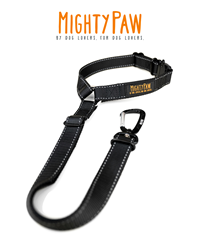 Traveling with your dog has never been easier!
ROCHESTER, N.Y. (PRWEB) January 31, 2020
Traveling with a dog can be the most rewarding experience, but keeping pups safe in the car is a concern many pet owners share. That's why Mighty Paw designed their brand new Head Rest Seatbelt. It takes the stress out of traveling, making driving with pets, safe and distraction free.
The universal design of the seat belt's adjustable headrest loop fits in any vehicle, resulting in a versatile fit no matter whose car you're taking. It has undergone comprehensive force testing to exceed 850+ pounds of force, and is made with a rock climber's carabiner clip and all-metal hardware. This seat belt is designed for maximum safety and a guaranteed worry free travel experience.
"I know from experience that dogs are injured terribly in car accidents," said Anderson Moorer, a former paramedic who is also a dog owner. "Sometimes the injuries sustained by seat-belt-wearing humans are minor, while their dog - ejected from being unrestrained - is critically injured."
Traveling is stressful enough, so Mighty Paw designed its headrest seat belt to fit in all vehicles. It is also adjustable in length to fit both large and small dogs, for the safety of all sized pups.
With so many causes for distraction, drivers already have enough to focus on. They do not need the added risk of a loose dog in the car. A dog jumping from seat to seat or bumping into the driver could cause a dangerous situation and be unsafe for both drivers and their four-legged family members.
As most pet owners know, a trip or adventure with their dog can be a very exciting experience! Upon reaching the destination, some dogs will attempt to bolt from the vehicle with the anticipation of hitting the trails. Mighty Paw's headrest seat belt will keep a dog safely restrained until the dog's owners are ready to leash up their dog and head out on that hike. During a walk or visit to the park, the seat belt also doubles as a short leash or tie out for the dog owner's convenience.
Mighty Paw just released the new headrest seat belt on Amazon.com and at their online store at http://www.mightypaw.com. To celebrate, the company is giving away 10% off Amazon discount codes for those interested in trying the new seatbelt. To get one now, redeem this limited time coupon here. Discount codes are limited, so be sure to get one today before they run out!