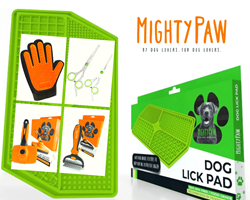 It is with great happiness and excitement that we announce the launch of our new dog grooming line," said Corey Smith, CEO and founder of Mighty Paw.
ROCHESTER, N.Y. (PRWEB) February 18, 2021
Mighty Paw, creators of the Smart Bell, Sport Dog Harness 2.0 and other innovative dog gear, announced the launch of a new dog grooming line today. Their new products offer a stylish, safe and affordable way of at-home grooming. Dog parents with dogs of all hair types can now easily trim, de-mat, de-shed, and brush their dog's fur at home while distracting them with the lick pad. After all, regular grooming is vital in order to remove dogs' dead undercoats and to improve the blood circulation in their skin for a healthy looking coat.
In today's pandemic-ridden US economy, affordability of dog gear is more important to America's 63 million dog owners than ever before. That's why Mighty Paw's grooming products range between $12-18 in price, making them a clever at home-grooming alternative to grooming visits at the salon.
"It is with great happiness and excitement that we announce the launch of our new dog grooming line," said Corey Smith, CEO and founder of Mighty Paw. "Our new shears, brush, rake, and glove make it easy to maintain a healthy looking coat in-between grooming visits at the salon, and our unique lick pad is the perfect distraction for anxious pups. They're also a frugal alternative for professional grooming sessions altogether when they no longer fit into your budget."
Dog Grooming Shears Details:
2 size pack for easy body and facial grooming
Titanium-coated, 100% stainless steel shears that won't rust or discolor
Rounded safety tips to prevent accidental pokes
Anti-slip handles, ergonomic finger rest & removable finger ring inserts for comfort and control
Professional-grade grooming right at home
Dog Grooming Glove Details:
Deshedding glove for pets with all hair types
BPA-free silicone that's free of harmful toxins
375+ grooming tips of different heights ensure maximum coat penetration
Removes dirt and loose hair on dry and wet coats
Easy to clean: hair peels off or rinses under water
Five-finger grooming glove fits most right-handed people
Made with breathable, light-weight mesh webbing for ultimate comfort
Adjustable velcro-wrist strap for a secure fit
Professional-grade grooming right at home
Dog Grooming Rake Details:
2-in-1 dual sided comb for frustration-free grooming
9 tooth side for dematting and untangling
17 tooth side for thinning and deshedding
Rounded teeth for safe yet effective grooming
Soft-grip ergonomic handle & built-in thumb rest for ultimate comfort
Durable design with 100% stainless steel teeth that won't rust or discolor
Professional-grade grooming right at home
Dog Grooming Brush Details:
Made with fine, soft bent bristles for maximum coat penetration
Durable design with 100% stainless steel bristles that won't rust or discolor
Easy to clean: retractable bristles make removing hair quick and easy
Soft-grip ergonomic handle & built-in thumb rest for ultimate comfort
Professional-grade grooming right at home
Dog Lick Pad Details:
9"x5" design
BPA-free, food-grade silicone mat that's safe to lick
Multi-use design with 4 uniquely textured quadrants (Easy, Fun, Anxiety, and Distraction for up to 30 minutes of entertainment)
Strong suction cups provide ultimate hold, even in the shower
Licking is great for dogs' dental health
Dishwasher-safe for easy cleanup
About Mighty Paw:
Founded by Corey Smith in 2015, Mighty Paw is a small family-owned and operated dog gear company that's headquartered in Rochester, NY. Their first product, a hands-free bungee leash set, was born out of sheer necessity when Corey and his wife Sonya, both avid runners, couldn't find the right gear for runs with their dog Barley. Since then, Mighty Paw has designed a full range of high-quality, affordable products that make life easier and more fun for active dog parents. https://mightypaw.com/blogs/news https://www.instagram.com/mightypaw/ ###