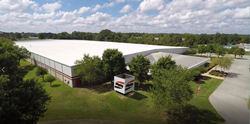 Improving safety is a never-ending task—even when performed well, there is no finish line.
NORCROSS, Ga. (PRWEB) March 20, 2019
Mighty Product Center (MPC), the distribution arm of Mighty Auto Parts, just completed its fourth consecutive year without a lost-time accident. This important safety milestone translates into over 452,465 hours worked without an accident.
"We emphasize the importance of safety and make it our top priority, closely followed by customer focus and operational excellence," said Human Resources Manager Steven Puffer. "Improving safety is a never-ending task—even when performed well, there is no finish line."
Employees and management agree that MPC's safety record is what helps to make the location a highly rewarding place to work. "Operational excellence is appealing to potential employees," notes Director of Distribution and Logistics Randy Birmingham. Randy agrees that an organization that focuses on operational excellence helps to create environments that make it possible for employees to thrive.
As MPC continues to strive to enhance its operational excellence capabilities, safety continues to be a top priority for the well-being of its employees. In addition, MPC delivers superior value to Mighty customers through safe, highly efficient and reliable production and service delivery processes.
About Mighty Distributing System
Mighty is headquartered in Norcross, GA and supports 100 franchised distributors in 44 U.S. states and five international markets. The Mighty System features local service, inventory management expertise, and training in conjunction with extensive offerings of OE quality underhood and undercar parts, chemical products, lubricants and shop supplies. The Mighty business model attracts independent repair shops, quick lubes, tire centers and new car dealerships across the nation and abroad. Mighty's unique approach of dealing directly and exclusively with automotive professionals began in 1963.