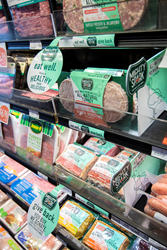 "We're thrilled that more consumers are discovering that lean poultry can be delicious, and that we're making an impact together to help people in need through our meal donations," said Nick Beste, CEO, Mighty Spark.
MINNEAPOLIS (PRWEB) September 10, 2020
Mighty Spark– the rapidly growing company that donates a meal with each purchase of their all-natural, flavorful poultry – is expanding its assortment and presence at additional retailers this fall. Mighty Spark's pre-seasoned patties and ground turkey and chicken, as well as their low-calorie protein snacks, has launched at select Krogers, Food Lion, Giant Eagle, Stater Brothers, Price Chopper New York, Bristol Farms, Harps, Lowes Foods, select Walmarts and more. New retailer launches in October include Harris Teeter, Jewel-Osco and Brookshire Grocery Co.
"We hear from our loyal fans and new consumers weekly about their love of our lean poultry and that their purchase helps someone in need through a meal donated," said Nick Beste, CEO, Mighty Spark. "We're thrilled that more consumers are discovering that lean poultry can be delicious, and that we're making an impact together to help people in need through our meal donations."
Saving Time and Money
As more consumers seek healthier protein for meals at home, demand for Mighty Spark's all-natural chicken and turkey products has increased rapidly, making Mighty Spark the fastest-growing poultry brand nationwide.
Mighty Spark's poultry – sourced from U.S. family farms, raised without added hormones –adds further time-saving value because it's pre-seasoned with whole food ingredients. Consumers can save time and money with a purchase of Mighty Spark because the company has done the work of adding jalapeños, bacon, tomatoes, peppers and more to their various fresh patties and ground blends.
Items launching at Kroger, Food Lion, Harris Teeter and other retailers includes:

Visit Mighty Spark's store locator for the specific locations where their product is available.
Better-For-You Snacking
Perfect for those on keto or paleo diets, or anyone looking for zero to little sugar for an on-the-go low-calorie snack, Mighty Spark's chicken snack sticks range from 45 to 60 calories with 5 to 6 grams of protein per stick.
Select Walmart stores now offer Mighty Spark's chicken snack sticks. Mighty Spark's snack sticks are also available through Amazon, Publix, GIANT, Lunds & Byerlys, Cub Foods, HSN.com and more.
More Than 8 Million Meals Donated
With expanded distribution at retailers comes a bigger impact on people in need through the company's meal donations. To use its business as a force for good, Mighty Spark donates a meal to people in need for every product purchased. The company's meal donations have exceeded 8 million meals, benefitting various non-profit organizations.
As part of Mighty Spark's commitment to feeding people in need in local communities, the company has a partnership with Feeding America®, where donations result in meals donated directly to the local food bank where a consumer purchased their Mighty Spark product.
"Hunger is an issue that impacts every community in our country. Feeding America is incredibly grateful for our partnership with Mighty Spark and their commitment to providing meals to people who need them most," said Lauren Biedron, Vice President of Corporate Partnerships at Feeding America.
About Mighty Spark
Minneapolis-based Mighty Spark empowers shoppers to give back by donating a meal to those in need through each purchase of its all-natural, premium poultry. Together, with its consumers, Mighty Spark is making an impact on hunger in communities around the world with meal donations exceeding 8 million meals, with millions to come.
Available at select grocery stores nationwide, Mighty Spark uses premium cuts for its all-natural poultry to deliver unparalleled taste and quality. From Queso Fresco and Jalapeño Turkey Patties, to Bruschetta Ground Chicken to Honey and Jalapeño Low-Calorie Chicken Snack Sticks, Mighty Spark's lean poultry not only delivers remarkable flavor, it's also a small but powerful act that makes an impact on hunger each day. Join the movement by visiting Mightysparkfood.com.
*Mighty Spark has committed to donating a minimum of 1 million meals annually to Feeding America from May 1, 2020 – April 30, 2023. *$1 helps provide at least 10 meals secured by Feeding America on behalf of local member food banks.