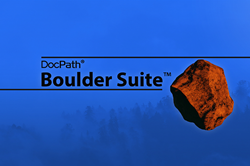 IBM - "DocPath Boulder Suite provides an easy and seamless path for this conversion, enabling the use of an advanced and thoroughly modern customer communications platform going forward…".
SUWANEE, Ga. (PRWEB) November 05, 2020
DocPath, leader in innovative document software solutions, announces its further enhanced DocPath Boulder Suite solution and successful recent IBM InfoPrint Designer migration for an important North American insurance company. The DocPath Boulder Suite solution offers a user-friendly migration from IBM's InfoPrint Designer tool to DocPath's advanced customer communication management technology.
Companies that use InfoPrint Designer were able to benefit from a tool that facilitated the development of the AFP resources on an IBM i platform. However, user needs grew significantly and InfoPrint Designer was no longer up-to-date. Additionally, a few years ago, IBM announced that InfoPrint Designer will no longer be offering maintenance nor support services.
So DocPath decided to offer a document software solution that responds according to the user's needs concerning the InfoPrint Designer application developed by IBM. This flexible and powerful alternative adapts perfectly to current and future business needs.
IBM themselves recommend the DocPath Boulder Suite document software as the best alternative to IBM's InfoPrint Designer on their developer's guide, Migrating from IBM InfoPrint Designer applications, where they state "DocPath Boulder Suite provides an easy and seamless path for this conversion, enabling the use of an advanced and thoroughly modern customer communications platform going forward…".
DocPath recently converted thousands of IBM InfoPrint Designer forms for a North American insurance company. The IBM's InfoPrint Designer migration was carried out easily thanks to the advanced tools provided by DocPath Boulder Suite which converted all forms seamlessly and without any interruptions. This insurance company can now design fully dynamic documents, organize or modify all their data or images, graphically define workflows, or incorporate dynamic three-dimensional graphics or barcodes.
DocPath solutions, including Boulder Suite, offer customer communications management document technology capabilities, not only to experts but also to other business processes-oriented users. As result, this user-friendly solution makes it easy to create any type of document.
Remarkable advantages:
IBM InfoPrint Designer resources can now be converted into DocPath resources. In addition, the design of the forms can be vastly improved, thus offering all documents to be much more attractive aestethically. Besides, DocPath Boulder Suite also offers the possibility to significantly expand printing and distribution capabilities.
Keep using only the best IBM i solutions:
DocPath Boulder Suite offers the opportunity to continue using IBM i platforms, either in a DocPath environment or using existing applications such as production machines that run fully on IBM i. When migrating from IBM's InfoPrint Designer to DocPath's Boulder Suite there is no need to change the user's generation engine, which means that there is no need for the user to renounce a familiar IBM i environment and all the benefits it brings; much more userfriendly, higher security and more control.
DocPath offers more options to migrate from third-party products to its advanced Customer Communications Management solutions. One proof of this is the two recent successful Jetform / Adobe Central Server migration projects.
About DocPath
DocPath is a leading document software manufacturer that provides its worldwide customers with the technology that allows them to implement sophisticated Customer Communication and Document Output Management processes. Created in 1993, DocPath´s solutions have been implemented in companies all over the world. Among its international clients are prestigious banks and first-class corporations, which are aided by DocPath solutions by simplifying the complicated and critical tasks involving the design and distribution of business and customer documents. DocPath maintains a strong commitment to R&D&i, an area that receives a good amount of its revenue, and in which lies the key to the company´s success.
Disclaimer: DocPath is a DocPath Corp. registered trademark. All rights reserved. Other mentioned trademarks may be the property of their respective owners.