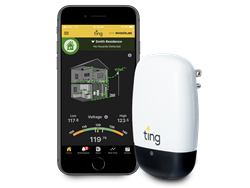 GERMANTOWN, Md. (PRWEB) March 10, 2022
Whisker Labs, the developer of Ting, a fast-growing breakthrough in fire safety innovation, today announced the appointment of Mike Kalten as the company's Chief Financial Officer (CFO). In addition to leading Finance, Accounting, and Human Resources, he will serve as a financial and strategic business advisor to the Chief Executive Officer (CEO) and partner with the senior leadership team to drive strategic growth.
"We are thrilled to welcome Mike to the Whisker Labs senior leadership team. He joins us at a critical time of accelerated growth and will make an immediate impact on our business operations," said Bob Marshall, CEO at Whisker Labs. "He brings a deep history of helping companies scale through hyper-growth journeys and is a perfect fit for Whisker Labs."
Kalten brings three decades of operational experience in finance to Whisker Labs, working in startup to mid-market venture capital, private equity-backed companies, and large public companies. He has led multiple debt and equity capital raises as well as buy-side and sell-side M&A transactions, holding senior financial executive positions at Vubiquity, Nextel Communications, and Sprint Nextel.
"I am excited to serve as Whisker Labs' CFO," said Kalten. "Whisker Labs has unique strengths, a strong business model, and a fantastic mission. I look forward to working with the team to execute on the company's priorities, accelerate growth and enhance value for all stakeholders."
The CFO appointment comes on the heels of Whisker Labs' significant expansion in the InsurTech space. As more insurance providers complement their homeowner offerings with proactive solutions to improve safety and prevent claims, Ting identifies and alerts the homeowner through its monitoring service to the precise sources of electrical hazards that, left alone, could result in devastating home fires. Capturing and pinpointing fault signal data from inside the house or from local utility power - and certifying complete remediation of those faults – are key components of Ting's turnkey service.
About Whisker Labs
At Whisker Labs, our passion lies in creating better ways to solve old problems. We help protect our customers, homes, and communities by preventing fires with Ting. Ting unlocks incredible insights into electrical anomalies in very fine detail, in real-time, from a single DIY sensor, enabling intelligent detection, localization, and mitigation of hazards before they have a chance to start a fire. While on the lookout for home electrical fire hazards from faulty wiring, devices, or appliances, Ting also monitors the quality of power delivered by the electric utility, identifying utility grid faults that can induce fires, damage appliances, and create electrocution risks inside the home. These same faults can also serve as an ignition source for devastating wildfires.