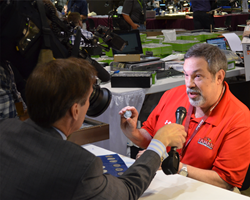 'Consumer and investor education is crucial. Being an informed buyer or seller is the best way to protect your investments to know you're paying fair prices when you purchase and getting fair prices when you sell.'
Rosemont, Illinois (PRWEB) August 08, 2014
Nationally-known gold and rare coins expert Michael Fuljenz, President of Universal Coin & Bullion (http://www.UniversalCoin.com) in Beaumont, Texas was honored with a total of six major awards by three prestigious organizations at a recent international event, the 2014 World's Fair of MoneySM.
Fuljenz was praised for his excellence in consumer protection and education efforts as well as outstanding service to the numismatic hobby and profession. The awards were presented by the Congressionally-chartered American Numismatic Association (ANA), the Professional Numismatists Guild (PNG) and the Numismatic Literary Guild (NLG).
He also was interviewed about the gold market by Fox Business Network in a live broadcast segment from the World's Fair of Money.
"Consumer and investor education is crucial. Being an informed buyer or seller is the best way to protect your investments to know you're paying fair prices when you purchase and getting fair prices when you sell," said Fuljenz who is known as America's Gold Expert®.
Held in the Chicago suburb of Rosemont, Illinois, August 5 - 9, 2014, the World's Fair of Money is an annual event sponsored by the non-profit ANA that brings together 10,000 rare coin, currency and precious metals buyers and sellers from around the world.
Fuljenz received the American Numismatic Association Medal of Merit, one of the organization's top awards. The Professional Numismatists Guild gave Fuljenz the 2014 PNG Significant Contribution Award for his consumer protection work and his successful efforts to change sales tax laws in Texas and Louisiana that could have been detrimental to rare coin and precious metals collectors, investors and dealers. The non-profit PNG is composed of many of the country's top rare coin and paper money experts.
The Numismatic Literary Guild honored Fuljenz with four awards related to his extensive consumer protection articles that appear in newsletters, on various news media websites and in books.
The four NLG awards were: Best Dealer-Published Magazine or Newspaper for Investors Profit Advisory; Best Radio Report for "The Coin Show" on KLVI 560 in Beaumont; Best Television Report for "The Coin and Precious Metal Report" on KBTV-TV Fox 4 in Beaumont; and Best Non-Commercial Video for "More Advice for Coin Collectors," an interview with Fuljenz produced by David Lisot.
Since 1986, Fuljenz has been presented with more than NLG 50 awards, including "The Clemy," the highest honor bestowed by the organization. He's also been honored by the Press Club of Southeast Texas for his consumer and investor education work.
His award-winning, free weekly Metals Market Report is available online at http://www.UniversalCoin.com. A complimentary copy of the award-winning "Universal Gold Guide" is available by calling (800) 877-3273.
In addition to receiving scores of prestigious national and regional awards and honors for his consumer education and protection work in rare coins and precious metals, Fuljenz is a respected community leader in his hometown of Beaumont, Texas. The Beaumont Enterprise newspaper's recent Reader's Choice Awards cited Fuljenz' company, Universal Coin & Bullion, as the Best Place to Buy and Sell Gold.
Fuljenz has served with distinction as a consultant to the Federal Trade Commission, United States Mint and Royal Canadian Mint, and is on the Boards of Directors of the influential Industry Council For Tangible Assets and Beaumont Crime Stoppers.