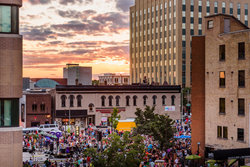 This is the true definition of a collaboration with all of the individuals and organizations that step up to make the music happen.
APPLETON, Wis. (PRWEB) August 02, 2018
Mile of Music, presented by Tundraland, returns to Downtown Appleton today through Sunday (August 2-5) with 900 live performances and dozens of music education events planned for the weekend.
Based in Northeast Wisconsin, the free festival – Mile 6 – showcases artists' original music and has served as a cover-free zone since it first started five years ago. Genres range from pop/folk and Americana/roots to rock, bluegrass, indie and funk, and performances are hosted at 70 venues that include outdoor stages/green spaces, restaurants, bars and coffee houses. Several local and regional acts will take the stage along with soloists, duos and full-piece bands traveling from the U.S. and internationally to perform. Of the 200-plus artists appearing, this year's festival will feature 91 new names, including:

Wilderado (Los Angeles, CA)
Vesperteen (Columbus, OH)
Flagship Romance (Truth or Consequences, NM)
Sarah Potenza (Nashville, TN)
Jesse Ray and the Carolina Catfish (Grand Rapids, MI)
Zane Carney (Los Angeles, CA)
The Mile 6 lineup will also feature more than 115 festival favorites from years past, such as:
LOLO (Jackson, TN)
The Suitcase Junket (Leverett, MA)
Mo Lowda & The Humble (Philadelphia, PA)
Terra Lightfoot (Ontario, Canada)
Motherfolk (Cincinnati, OH)
Smooth Hound Smith (Nashville, TN)
"As Mile of Music has evolved since 2013, the interest among artists has grown, and we now receive several hundred submissions to consider," said Dave Willems, the festival's co-founder and executive producer. His company, Willems Marketing & Events, produces the festival. "Our goal is to create an exceptional line-up of talent and that means bringing back a mix of fan favorites and new acts each year."
Beyond the 900-plus live performances, Mile 6 will also feature dozens of interactive, educational events organized by the Music Education Team that's headed up by staff at Lawrence University Conservatory of Music. These activities allow attendees of all ages and skill levels to get in on the music-making with opportunities to participate in dancing, drum circles, songwriting, instrument workshops and jam sessions.
Fun festival staples like the Mile of Music bus and pop-up performances will be back for the weekend at Mile 6, and there will also be additions like rides from the Social Station Mega Cycle on the Downtown Appleton festival route.
The festival continues to be a success thanks to the tremendous support from the community as well as state and national sponsors and a long list of local sponsors. This support includes everything from volunteers to in-kind donations and stage/merchandise partnerships. It also includes strong financial backing from Tundraland – a home improvement company that has served as the music festival's presenting partner for the last four years and continues to recognize how music and art can positively affect a community's culture.
New this year is a Showcasing Wisconsin partnership that Mile of Music formed with Jewelers Mutual Insurance Group, a company that's been operating in the state since 1913. The organization is supporting the 65 Wisconsin-based artists playing in the festival as a collaboration between these "Wisconsin Originals."
"Putting on a music festival of this size is a major undertaking, but we've had an overwhelming amount of support since the very beginning," Willems said. "This is the true definition of a collaboration with all of the individuals and organizations that step up to make the music happen."
To learn more about the artists, performance schedule, music education events and other festival details, visit http://www.mileofmusic.com.
ABOUT MILE OF MUSIC
Mile of Music is an original roots music festival that launched in August 2013 as a creative and economic catalyst in Downtown Appleton, Wis. The four-day festival is held in August with the support of more than 100 community sponsors and 400 volunteers. It features 900 live music sets and 200 artists at 70 venues along the one-mile, walkable stretch of College Avenue and the nearby riverfront.