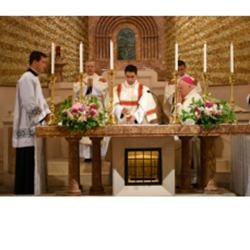 As you can imagine, Deacon Matthew has been on a long path of discernment and spiritual formation
LA PLATA, Argentina (PRWEB) September 19, 2020
On May 13th, 2020 Brother Matthew Maxwell from Temecula, CA knelt in the Saint Felipe Neri Parish in Castel Giuliano, Italy and professed his "Perpetual Vows" in the Roman Catholic Miles Christi religious order based in Argentina. With this solemn commitment to live the rest of his life in poverty, chastity, and obedience within Miles Christi, Br. Maxwell took an unprecedented step toward becoming the first American priest in the ranks of Miles Christi's "spiritual army."
A few days later on May 17th, Br. Maxwell knelt again—this time before His Excellency Gino Reali, Bishop of Porto-Santa Rufina, Italy—and was ordained Deacon Matthew Maxwell of Miles Christi. This momentous event marks the end of Dcn. Maxwell's third year of theological studies in Rome and sets him on a course to priestly ordination in November of 2020.
Miles Christi (Latin for "Soldiers of Christ") is a relatively new Roman Catholic religious community committed to fighting the corrosive influences of relativism, secularism, and consumerism. Miles Christi was founded in Argentina in 1994. In 1999, two priests and a brother from the order were sent to America to facilitate Catholic renewal through the spiritual disciplines of St. Ignatius of Loyola. Dcn. Maxwell now takes his place within Miles Christi as the first American face of this movement.
"As you can imagine, Deacon Matthew has been on a long path of discernment and spiritual formation," said Father Claude Lombardo of Miles Christi. "After joining our order, he spent the first years of his formation in our Miles Christi house in Michigan," Fr. Lombardo explained. "Then he traveled to our Miles Christi motherhouse in Argentina, went through the novitiate, and received the habit of Miles Christi. At the completion of his philosophical studies, he was transferred to Rome for his final phase of formation and to study Theology." Fr. Lombardo emphasized the gravity of Dcn. Maxwell's vows, "You must understand, he will spend his life in poverty and service…he will die in Miles Christi."
Dcn. Maxwell reflected on his ordination within Miles Christi and said, "Thanks be to God I was able to make my Perpetual Vows and receive the diaconate ordination a few days from each other. Following my baptism, these were the most transcendental days of my life, where I became completely the Lord's forever and was configured to become more like Christ. God willing, this likeness will culminate in my priestly ordination, where I will be able to act in Persona Christi (as the Person of Christ)!"
Dcn. Maxwell has now returned to the Miles Christi house in Michigan where he is expected to be ordained a Miles Christi priest in November. In this new position, Matthew Maxwell from Temecula, CA will be the first American within the Miles Christi order to celebrate the mass, hear confessions, and offer the sacraments. He also represents the progress Miles Christi is making to bring spiritual renewal to the United States.
###
Miles Christi is a Roman Catholic religious order, established in La Plata, Argentina in 1994. In the United States, the order grew to include locations in South Lyon, MI in 2000 and in San Diego, CA in 2008. The priests of Miles Christi provide spiritual direction, religious education, and Ignatian retreats. The Miles Christi order currently serves over 40 locations across the United States.