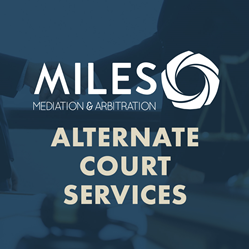 "As courts begin to reopen, each will struggle with an enormous logjam of cases. It will be many months before the normal volume of calendars resume. Alternate Court Services can help move cases along." -Hon. Jason Harper
ATLANTA (PRWEB) May 21, 2020
Miles Mediation & Arbitration announced the official launch of Alternate Court Services, a dispute resolution program designed to address the backlog of civil and domestic cases caused by the COVID-19 pandemic.
Alternate Court Services provides a path to resolution for litigants unable to move forward due to court closures. Through the program, Miles Mediation & Arbitration offers experienced neutrals qualified to serve as arbitrators and special masters.
"As courts begin to reopen, each will struggle with an enormous logjam of cases," said Miles Mediation & Arbitration neutral Hon. Jason Harper. "It will be many months before the normal volume of calendars resume. In addition to entrusting Miles Mediation & Arbitration to mediate cases, clients can move cases along through Alternate Court Services."
In addition to offering private arbitration, Miles Mediation & Arbitration can handle crucial issues such as Daubert motions, discovery disputes, motions for protective order, motions for summary judgment, and motions in limine.
Alternate Court Services provides a cost-effective and efficient way of resolving cases through arbitration, special master, and mediation, either in-person or through a secure virtual platform.
ABOUT MILES MEDIATION & ARBITRATION
Miles Mediation & Arbitration, headquartered in Atlanta, is an award-winning alternative dispute resolution (ADR) firm. The firm specializes in mediation, arbitration, special master and all forms of dispute management and is known for its exceptional client service and reputation of delivering successful results. The firm handles all case sizes and types, including complex, multi-party disputes in areas of business, finance, construction, medical negligence, personal injury, wrongful death, trucking, real estate, insurance coverage, fiduciary, estate and probate, and premises liability. For more information, please call 678-320-9118.