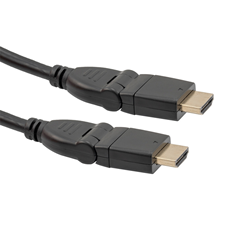 "These new HDMI cables with swivel connectors are perfect for mobile kiosks, digital signage and medical equipment cart applications where the need for HDMI connectivity in tight spaces is often required," said Mark Blackwood, Product Line Manager
IRVINE, Calif. (PRWEB) July 23, 2020
MilesTek, an Infinite Electronics brand and a leading manufacturer and supplier of products designed to address military and avionics applications, announced today that it has released a new series of HDMI cable assemblies with swivel connectors to address tight-fit A/V applications.
MilesTek's new HDMI swivel cables feature a unique connector design that allows the connector to swivel 90-degrees in any direction to accommodate the most demanding tight-fit applications. Other features include 30 AWG conductors, PVC cable jackets and a 100% aluminum Mylar shield along with a copper braided shield to protect HDMI A/V transmissions from EMI/RFI noise. Off-the-shelf lengths range from one to four meters.
"These new HDMI cables with swivel connectors are perfect for mobile kiosks, digital signage and medical equipment cart applications where the need for HDMI connectivity in tight spaces is often required," said Mark Blackwood, Product Line Manager.
MilesTek's new HDMI cables with swivel connectors are all in-stock and available for same-day shipping.
About MilesTek
MilesTek designs and manufactures a broad range of MIL-STD-1553B and Ethernet connectivity products to address Military Avionics, Aerospace, Industrial and government applications. In addition to a wide selection of off-the-shelf products, MilesTek can custom manufacture cable assemblies and harnesses. MilesTek is headquartered in Lewisville, Texas and is ISO-9001:2015 certified. MilesTek is an Infinite Electronics brand.
About Infinite Electronics
Based in Irvine, Calif., Infinite Electronics offers a broad range of components, assemblies and wired/wireless connectivity solutions, serving the aerospace/defense, industrial, government, consumer electronics, instrumentation, medical and telecommunications markets. Infinite's brands include Pasternack, Fairview Microwave, L-com, MilesTek, Aiconics, KP Performance Antennas, PolyPhaser, Transtector, RadioWaves, ShowMe Cables, INC-Installs and Integra Optics. Infinite Electronics serves a global engineering customer base with deep technical expertise and support, with one of the broadest inventories of products available for immediate shipment.