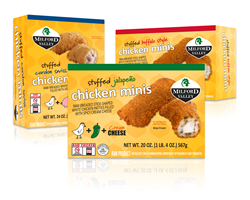 Milford Valley Chicken Minis are easy to prepare in the oven and cook in less time than traditional chicken entrées.
Milford, IN (PRWEB) July 10, 2014
Milford Valley has developed new stuffed chicken minis for its retail chicken product line. The ready-to-cook products are a miniature version of Milford Valley's chicken entrées that feature raw, breaded chicken breast meat stuffed with delicious fillings.
The stuffed chicken minis are available in three flavors -- Cordon Swiss (filled with ham and cheese), Buffalo Style (filled with seasoned cream cheese) and Jalapeño (filled with spicy cream cheese) -- that are easy to prepare in the oven in less time than traditional chicken entrées.
"We saw growth in the product category in our foodservice side, so bringing the chicken minis to retail made sense," said Milford Valley Marketing Director Carmen Darland. "The flavor profile appeals to a younger demographic, and the product's smaller size saves time in the kitchen with faster cooking times than larger, traditional chicken entrées."
The Buffalo Style and Jalapeño chicken minis, which are both stick-shaped, are available in 20 oz. retail packaged boxes, and the Cordon Swiss comes in a 24 oz. box. The retail packages are versatile for either vertical or horizontal merchandising, and also feature icon graphics that depict the flavors of the chicken minis. Suggested retail price of the chicken minis is $7.99-$8.99 per box.
About Milford Valley:
Milford Valley chicken products are made at Serenade Foods in Milford, Indiana. Since 1976, the family owned company has manufactured chicken patties, chicken nuggets, chicken strips and stuffed chicken entrées for retail and foodservice markets. For more information, contact Milford Valley at 1-800-348-2812 or visit http://www.milfordvalley.com.
# # #