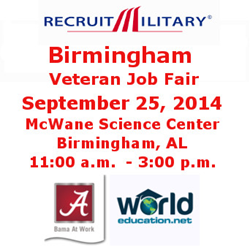 Arlington, TX (PRWEB) September 19, 2014
World Education.net is proud to announce that it will be attending the upcoming RecruitMilitary Veteran Career Fair in Birmingham, AL on Thursday, September 25.
The upcoming event will provide retired and active-duty military personnel and their spouses the opportunity to learn about employment and continuing education opportunities, including online career training and professional development certificate programs offered by World Education.net.
Earlier this year Bama At Work, Office of Professional Development and Community Engagement at the College of Continuing Studies of The University of Alabama began offering World Education.net's innovative online career training courses.
The courses are ideal for veterans and active duty military personnel and their spouses seeking to gain new skills in a wide variety of in-demand career fields, including business, IT, heath care.
World Education.net's course catalog features over 200 titles, and the company focuses on providing students with the tools they need to succeed in their online studies and beyond. Upon enrolling, students are assigned a dedicated Career Coach, who provides ongoing communication and guidance over the course of their studies.
Upon completion of their studies, students receive job development assistance, including mock interviews, help in crafting a professional resume, and assistance in applying for professional certifications. Some IT and Healthcare programs also offer externship opportunities, which provide students with real-world experience in their chosen career field.
The courses qualify for a variety of tuition assistance programs, including the D.O.D.'s MyCAA scholarship program for military spouses.
World Education.net's Director of Social Media and Marketing, Kelly Fuhlman and from the University of Alabama, Pamela Harvey, Program Assistant and Guillaume Slama, Internet Communication Specialist will be available to answer questions about career training opportunities and tuition assistance programs specifically designed for military personnel and spouses.
Students requesting additional information will be entered in our $100 Amazon Gift Card Giveaway Drawing which will be held at the conclusion of the Career Fair.
The event will be held on Thursday, September 25th from 11:00 a.m. until 3:00 p.m. at the McWane Science Center in downtown Birmingham. There is no cost for veterans and their spouses. Click here for additional information and to register for the event. Previous Veteran Career Fairs held in Birmingham in have drawn 1,022 attendees and featured 108 exhibitors.
About RecruitMilitary:
Founded in 1998 in Loveland, OH RecruitMilitary connects employers, franchisors, and educational institutions with men and women who are transitioning from active duty to civilian life, veterans who already have civilian work experience, members of the National Guard and reserves, and military spouses and other family members. Please visit http://recruitmilitary.com for more information.
About Bama At Work:
Bama At Work, the University of Alabama Professional Development and Community Engagement service, delivers The University of Alabama to individuals pursuing educational goals and career growth and to organizations building excellence in the workplace. Individuals have the opportunity to enhance their skills through online and face-to-face certificate programs and also through conferences that provide the most up to date ideas. Please visit http://bamaatwork.ua.edu/ for more information.
About World Education.net:
Founded by eLearning pioneer Stephen Gatlin, World Education.net is committed to providing students with access to affordable, high quality instructor-based online certificate courses in a wide range of high-growth, portable career fields, as well as financial assistance and job assistance counseling to ensure their success.
Headquartered in Arlington, Texas World Education.net provides innovative online continuing education and career training solutions through accredited colleges and universities. Please visit http://www.worldeducation.net for more information.