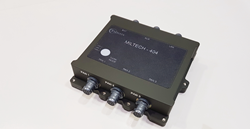 LOS ANGELES (PRWEB) September 10, 2020
MilSource, the exclusive US distributor of Techaya, announced today that Techaya's MILTECH 404 was recognized among the best by the 2020 Military & Aerospace Electronics Innovators Awards. An esteemed and experienced panel of judges from the Aerospace and Defense community awarded Techaya's MILTECH 404 as a Platinum honoree. The award's platinum level honors superb innovation, characterized by a groundbreaking approach to meeting a need, and/or a new level of performance, efficiency, ease-of-use, or other beneficial quality.
The MILTECH 404 is an integrated soldier power and data management system (ISPDS) combining USB, serial, and SMBUS communication along with full smart power management for infantry soldiers.
Unlike most ISPDS on the market, the MILTECH 404 comes equipped with an integrated System on Module (SOM) running Linux. This delivers an integrated open-architecture compute platform that can run custom mission or communication routing applications without the need for additional compute devices. The Linux SOM also collects, stores, and makes accessible critical power-level and management information that can be read through a CLI or serial connection. That information can then be integrated into any field-deployed Android application.
"Techaya has delivered several innovative soldier-worn data and power management hubs over the past two years. The unique architecture of the MILTECH 404 with the integrated SOM is a game-changer for soldier-worn hubs," said Ronen Isaac, general manager of MilSource. "The benefit of the already-compact size and light weight is magnified by its ability to host additional applications without the need for additional soldier-worn devices. We welcome the recognition of Military & Aerospace Electronics and the judging panel to appreciate the innovation involved."
"On behalf of the Military & Aerospace Electronics Innovators Awards, I would like to congratulate Techaya on their Platinum–level honoree status," said Military & Aerospace Electronics Editor in Chief John Keller. "This competitive program allows Military & Aerospace Electronics to celebrate and recognize the most innovative products impacting the aerospace and defense community this year."
About MilSource:
MilSource is focused on bringing innovative, rugged, military-grade Ethernet communications solutions the military and aerospace markets for both manned and unmanned systems. MilSource is the exclusive U.S. distributor of Techaya's MILTECH line of military-grade switching, routing and other communications solutions. For more information on MilSource or the Techaya product line, visit http://www.militaryethernet.com.
About Military & Aerospace Electronics:
Military & Aerospace Electronics is the leading media resource serving program and project managers, engineering managers, and engineers involved in electronic and electro-optic design for military, space, and aviation applications.
Military & Aerospace Electronics magazine delivers time-sensitive news, in-depth analyses, case studies, and real-world applications of new products, industry opinion, and the latest trends in the use of mil-spec, rugged and commercial off-the-shelf components, subsystems, and systems.
For more information about MilSource, please contact:
Kelly Dorsey
kd@milsource.com
(818) 436-9646