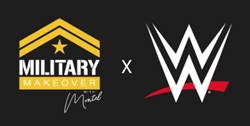 "I'm incredibly grateful to WWE to help us identify and support more veterans. I also can't say enough good things about Lacey Evans. She is a fierce advocate for her fellow veterans and I'm excited to continue to partner with her on her advocacy," – Montel Williams, Host & Co-Executive Producer
DEERFIELD BEACH, Fla. (PRWEB) April 15, 2020
Military Makeover kicks off a national campaign with WWE to find the next military family to receive a complete home makeover on the popular veteran show on Lifetime TV. WWE has a long history of supporting the military community and this partnership furthers their mission to give back to veterans and their families.
Talk show legend and Host Montel Williams, a veteran of both the Marine Corp and the Navy, along with WWE Superstar Lacey Evans, a veteran of the US. Marine Corp, have worked on 4 makeovers together, recently completing the renovation of the home of Debbi Hixon, wife of the late Navy veteran and hero Chris Hixon, Athletic Director and Wrestling Coach at Marjory Stoneman Douglas High School in Parkland, FL. Military Makeover will team with WWE to search for the next deserving family and WWE fans will be a big part of it by social tagging their favorite veteran hero. Military Makeover and WWE will be launching a collaborated campaign on their social media channels looking for deserving families.
The initiative starts on April 15th with an announcement of rules by Montel Williams and WWE Superstar Lacey Evans on both Military Makeover's Facebook (@militarymakeover) and Instagram Stories (@military.makeover) with links to this landing page for application - http://www.militarymakeover.tv/tagahero. Fans will tag their favorite veteran hero #tagahero. Tagged families will have an opportunity to fill out an online form that will prompt info like the age of their home and what type of health struggles, if any, they may be having. Application submission deadline is May 31st. On July 13, 2020 Montel Williams and WWE Superstar Lacey Evans will appear on Facebook & Instagram announcing the home makeover recipient.
"I'm incredibly grateful to WWE to help us identify and support more veterans. I also can't say enough good things about Lacey Evans. She is a fierce advocate for her fellow veterans and I'm excited to continue to partner with her on her advocacy," – Montel Williams, Host & Co-Executive Producer
"It is my honor and privilege to be part of an initiative that is very personal to me," said WWE Superstar Lacey Evans. "Working alongside Montel Williams and the Lifetime team to help our veterans and families in need has been a lifechanging experience that I am so grateful to be a part of."
For more information please contact: Lisa@KristenR.com.
To learn about the show and watch previously aired episodes, please visit militarymakeover.tv.
###
Campaign Social Channels
#tagahero
Military Makeover:
Facebook:@military
Instagram: @military.makeover
Twitter: @militarymkover
WWE Superstar Lacey Evans:
Instagram: @LaceyEvansWWE
Twitter: @LaceyEvansWWE
WWE:
Facebook: @WWE
Twitter: @WWE
Montel Williams:
Facebook:@MontelWilliamsFan
Instagram: @montel_williams
Twitter: @montel_williams
About Military Makeover with Montel®: A BrandStar Original, is America's leading branded reality TV show, offering hope and a helping hand here on the home front to members of our military and their loved ones. Talk show legend and military advocate Montel Williams, a veteran of both the Marine Corps and the Navy, creatively co-produces the show and works with a colorful cast that seeks to transform the homes and lives of military families across the country. The cast includes co-host Art Edmonds, designer Jennifer Bertrand and contractor Ryan Stanley. This special series enlists caring companies of all sizes as well as nonprofits and the local community. Help starts at home for veterans on Military Makeover. Join us as our makeover team engages to change the living situation – and the lives – of these deserving families. Military Makeover with Montel | WWE EPK
About WWE®: WWE, a publicly traded company, is an integrated media organization and recognized leader in global entertainment. The company consists of a portfolio of businesses that create and deliver original content 52 weeks a year to a global audience. WWE is committed to family friendly entertainment on its television programming, pay-per-view, digital media and publishing platforms. WWE's TV-PG, family-friendly programming can be seen in more than 800 million homes worldwide in 28 languages. WWE Network, the first-ever 24/7 over-the-top premium network that includes all live pay-per-views, scheduled programming and a massive video-on-demand library, is currently available in more than 180 countries. The company is headquartered in Stamford, Conn., with offices in New York, Los Angeles, London, Mexico City, Mumbai, Shanghai, Singapore, Dubai, Munich and Tokyo.