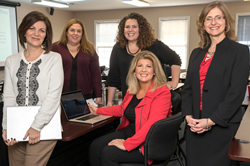 "Military spouses are the perfect candidates to become EventPrep franchise owners," said Paul Trapp, EventPrep's CEO and Service Disabled Veteran. "Their organizational skills, extensive travel knowledge and previous military planning experiences are a solid foundation for growing their businesses."
MERRITT ISLAND, Fla. (PRWEB) April 23, 2019
In April 2018, EventPrep® announced its exciting new GiveAway for military spouses who have difficulty finding a sustainable job because of frequent Permanent Change of Station (PCS) moves.
Five deserving military spouse entrepreneurs won an EventPrep® home-based franchise, and they will start a new career in the hospitality industry as a small business owner, providing professional meeting planning and management services with no territory limitations.
There are more than a million military spouses – 700,000 married to someone on active duty and 400,000 with the Guard and Reserves, but it all came down to these Top 5 winners for the EventPrep® Military Spouse 200K GiveAway:

Angie Spangler, U.S. Army Military Spouse
Carrie Smith, U.S. Air Force Military Spouse
Christina Abbott, U.S. Air Force Military Spouse
Kathryn Rivera, U.S. Army Military Spouse
Toni Stinson, USMC Military Spouse
The top five new franchisees participated in a 6-day Franchise Training Bootcamp at the EventPrep® national training facility in Northern Virginia, the new franchisees are now armed with all the tools, skills and knowledge they need to begin their journey as a full-service meeting planning and management small business.
"Moving our family around the globe has made me very versatile and adaptable because this crazy military life demands that of every military spouse. I've become a master planner and logistician for my family and for every organization I've worked with over the years. It's almost as if I've been in a long training program to prepare for this amazing opportunity to own my own EventPrep event planning business!" Toni Stinson said.
EventPrep® is owned by military veterans who recognize the employability challenges that military spouses traditionally face and were compelled to share this unique home-based meeting planning franchise opportunity as a plausible solution.
About EventPrep®, Inc.
EventPrep® is a forward-thinking full-service meeting planning and management company with our corporate headquarters located in Central Florida. Our reach is global, and our primary focus is to save our clients, time, money & anxiety while planning unforgettable meetings and conferences. We view ourselves as partners with our customers, employees, community & environment. We are a globally recognized brand name, capitalizing on our in-depth industry experience & leveraging our industry relationships. Our mission is moderate growth, annual profitability & maintaining our sense of humor.
EventPrep® makes the business of meeting planning and management streamlined, simple and efficient for the client. The EventPrep® franchise is designed to replicate our proven business model into new markets with professionals who exemplify the same motivation to serve and the willingness to go the extra mile for the client. We offer franchisees the systems, support and business model; franchisees bring the willingness to learn, execute and build.
We are a company founded by Veterans and our company philosophies, work ethic, integrity and commitment to service are derived from our time in uniform. We can't express enough gratitude and thanks to others who have served our great country and the families that support them.