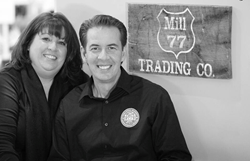 If retailers want to survive, we need to change and adapt
NEWBURYPORT, Mass. (PRWEB) May 01, 2020
Mill 77 Trading Company has introduced a Virtual 3D retail tour of their showroom today.
https://my.matterport.com/show/?m=iTsD4ZHs68d
"I believe that the COVID 19 pandemic is going to continue to change the retail shopping habits of consumers indefinitely. If retailers want to survive, we need to change and adapt with them. This 3D Technology allows our customers to comfortably walk through our showroom in the safe and secure environment of their home. It also allows us to showcase who we are." Said Owner, Gary Bergeron.
"When we were mandated to shut down in March, we tackled putting up a retail website, but we knew long term that wouldn't be enough. We have always believed in creating a walk-through experience in our showrooms and this 3D tour is a virtual extension of that. We launched the tour of our first showroom today. We will launch the next 2 showrooms within a month" said Bergeron.
Due to the COVID 19 pandemic, Mill 77 Trading Company began an online store in March of this year. The almost 2-month shutdown forced us to lay off 12 people. That's the first time in almost 10 years that we've had to do something like that. We are a family business and luckily, everyone in the family has been volunteering and pitching in to fill online orders. Between not being open for our retail customers, and not being able to sell directly to our wholesale customers, it has been a challenge" Said Bergeron.
"We sell a unique look, a feel, an experience. Our first choice is for our customers to walk in and enjoy all of that. This New 3D tour allows us to provide our customers the next best thing. We've invested in it because we believe it could very well be one aspect to ensure the future of retail for Mill 77".
About Mill 77 Trading Company
Mill 77 offers a wide variety of New & Unique Vintage inspired home furnishings in their 15,000 sq. ft. showroom and workspace. The company started in 2010 when the owners Gary and Julie found themselves suddenly "outsourced" from our corporate careers. At a time called 'The worst job market since the great depression', employment was nowhere on the horizon. Like many families during that time, the heartbreak of losing their home to foreclosure fast became a reality. Moving from the family home into a small apartment, was a not so gentle reminder of the stark difference between want and need. While searching for a place to sell what they couldn't take and after years of hobying in the furniture refinishing market, an idea started to form.
With the help and support of family and friends, using every piece of their own furniture as inventory, Mill 77 Trading Company began. Continuing to evolve over the past 9 years, the company has settled into the Newburyport facility after outgrowing the first two locations. Today the company is truly a family owned and run operation, where the children and grandchildren work to help keep the dream alive, and has quickly become a place where family, friends and customers gather. "Mill 77 is Where Everything Gets a Second Chance."