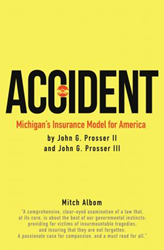 Michigan has a successful model for insurance that solves [the problems Americans and medical providers are struggling with] while creating thousands of jobs and saving billions in Medicaid costs, with a $20 billion fund to prove it
TROY, Mich. (PRWEB) August 23, 2018
John G. Prosser II and John G. Prosser III's book, Accident: Michigan's Insurance Model for America ($12.99, paperback, 9781545622551; $3.99, e-book, 9781545624448) is now available for purchase.
The authors share and explain Michigan's successful model for insurance as a unique auto insurance system set up in 1973. They examine the needs surrounding the model, and make an effective argument for future adaptations of it.
"Michigan has a successful model for insurance that solves [the problems Americans and medical providers are struggling with] while creating thousands of jobs and saving billions in Medicaid costs, with a $20 billion fund to prove it," said John Prosser II.