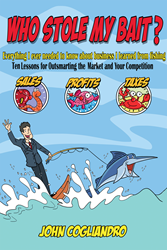 Each fishing story is entertaining for any audience and sets up a valuable lesson
DEDHAM, Mass. (PRWEB) November 08, 2018
John Cogliandro's new book, Who Stole My Bait? Everything I Ever Needed to Know About Business I Learned from Fishing: Ten Lessons for Outsmarting the Market and Your Competition ($14.99, paperback, 9781545643044; $3.99, e-book, 9781545643051), is now available for purchase.
With a focus on growth, Who Stole My Bait explores 10 short, fun fishing stories as a backdrop to business topics ranging from IP (intellectual property) strategy and decision making to corporate culture and diversity. It links employee satisfaction and organizational identity to consumer confidence and shows how true niche market segmentation can explode sales growth. No fishing skill required!
Business owners and managers are often called on to solve complex problems such as charting growth with new products and services or motivating a workforce toward a common goal. While most business books are long and complex, Who Stole My Bait explains topics like these in fun terms with a simple, easy-to-remember storyline for each subject. Each fishing story is entertaining for any audience and sets up a valuable lesson and practical application for any organization: for profit, nonprofit, governmental, or educational.
John Cogliandro, (CSI-IIE) is an internationally recognized speaker and author, having contributed to hundreds of projects from a variety of markets. His specialty is early stage technology development, intellectual property, and strategic planning. He received his MBA with a Price Fellowship Award for Entrepreneurial Excellence. Other titles he has authored include "Intelligent Innovation Revealed, Best Practices Distilled from Thousands of Business and Organizations," published in 2012, as well as several white papers in technology development, risk management, and business strategy.