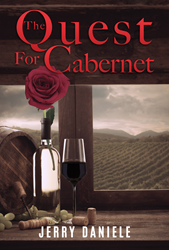 This novel is a modern-day David & Goliath story
CAPE CORAL, Fla. (PRWEB) November 08, 2018
Jerry Daniele's novel, The Quest for Cabernet ($20.99, paperback, 9781545635490; $35.99, dust jacket, 9781545635506; $9.99, e-book, 9781545635513), is now available for purchase.
The Quest for Cabernet focuses on a small winery in Tuscany which develops a formula for an extraordinary Cabernet. When a large winery in Salerno forms a partnership for the rights to the formula, they renege on commissions, not knowing that the Tuscan winery is owned by a Mafia family. This novel is a modern-day David & Goliath story, touching on the topics of less-than-honest business practices, grudges, greed, and perceptions held over from World War I.
Jerry Daniele is a highly independent product of an Italian family. As the first son, he was exposed to multiple generations of the "family business" and "old country" logic. He is highly competitive and is a recipient of an "Outstanding Senior Athlete" award. The Quest for Cabernet is Daniele's first published novel.