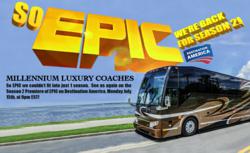 When you're this EPIC, 1 season just isn't enough. Back with even more Epicness on the new season premiere of EPIC on Destination America.
Sanford, Florida (PRWEB) July 11, 2013
Destination America is the first network to celebrate the people, places and stories of the United States, while EPIC explores the most excessive and outrageous items that people are willing to spend fortunes on. Epic shows how these splurges were made, how they work, and why in the world people go to such great lengths to acquire their dream.
This year EPIC welcomes back Millennium Luxury Coaches, the Central Florida builder of the "Dream Machine" featured last season. This time around EPIC will focus on two unique coaches custom built and filled with new personalized features as amazing and entertaining at the coach owners themselves. One decked out with so many high tech gadgets that James Bond would be proud to take it on his next mission, to a coach that is the culmination of 2 decades worth of searching for the perfect ride.
Millennium Luxury Coaches will be featured on the season 2 premiere of EPIC on July 15th, at 9pm EST on Destination America, along with other amazing vehicles of recreation, and will continue to entertain viewers over the course of the new season with other extravagant amenities and the people who make them, including floating homes, helicopter landing pads, wine cellars and pools with their own private lazy river, slides and underwater speakers, as EPIC spotlights the most imaginative creations found right next door.
About Millennium Luxury Coaches
Millennium Luxury Coaches is one of the Largest Converters of Custom Prevost Chassis for Private use. Founded in 2001 and privately owned, Millennium has 85 employees operating out of a 100,000sq.ft. sales & manufacturing facility in Central Florida. Known for innovation, Millennium leads the way in adopting the latest technology and advancements into each coach it custom builds. In addition to new coach conversions the company also offers pre-owned coaches, consignment sales, renovation & remodel services, onsite coach storage and operates a full service collision center, and custom paint facility. For more information visit Millennium Luxury Coaches, Millennium on YouTube or Press Page
About Destination America
Destination America is the only network to celebrate the people, places, and stories of the United States. The inclusive network targeting Adults 25-54 is available in 60 million homes, emblazoning television screens with the grit and tenacity, honesty and work ethic, humor and adventurousness that characterize our nation, with original series like BBQ Pitmasters, A Haunting, Epic, and Buying Alaska. For more information, please visit DestinationAmerica.com. Destination America is part of Discovery Communications (Nasdaq: DISCA, DISCB, DISCK), the world's #1 nonfiction media company reaching more than 1.8 billion cumulative subscribers in 218 countries and territories.
Contact
Bob Williams, Marketing
Millennium Luxury Coaches
bwilliams(at)mlcy(dot)com
1601 Dolgner Place
Sanford, FL 32771
407-328-0190
###