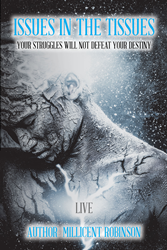 MEADVILLE, Pa. (PRWEB) March 18, 2021
"Issues In The Tissues: Your Struggles Will Not Defeat Your Destiny": an inspiring tome that instills in the minds of many how faith is a strong key in prevailing against challenges. "Issues In The Tissues: Your Struggles Will Not Defeat Your Destiny" is the creation of published author Millicent Robinson, a writer who has served as the director of the Gracious Women of God Ministry. She is also the author of five other books.
Robinson shares, "Give not fear to your pain, nor let financial complexities prevent success.
"You may have health issues that may be challenging but be proud of who you are and keep your focus. You are unstoppable; this is your season and there is no reason to doubt.
"The woman with the issue of blood only 'touched' the hem of Jesus's garment and immediately she was healed.
"Never belittle the issues you face in your tissues. Deem it as a purpose for God to invest in you. Great investment does not come overnight, but through processes. Job said, 'Though he slays me yet will I trust him' (Job 13:15). If that wasn't enough Job questioned 'If a man dies, shall he live again? All the days of my appointed time will I wait until my change comes' (Job 14:14).
"Holding back your dreams is not an option, and doubting will only set you back. Believe in yourself, be positive about life, and you have potential. Don't be weighed down by fear, anxiety, and unforgiveness. Though caused by traumatic events, they are only issues.
"The term 'issues in the tissues' refers to the state of our emotional being stored in our bodies. Our heart is the center of our emotions. We deal with personality, mood, temperament, interconnectedness, motivation, disposition, experience, and illness. These are issues that when locked in the tissue they will suppress your emotions. The fact is, you need to release your tensions, get past your past because failure to do so will have your past holding you hostage. Your yesterday is past and will speak for itself; live in your today as your tomorrow isn't promised.
"Built up issues are dangerous to the breaking down of cells within the body, causing physical barriers that will affect the exporting and receiving of messages from the mind, communication. When the mind is released, you also release the cluster of confusions that cause heaviness in the head, which often feels more like an eruption is about to take place at any time. Letting go of strongholds can be very difficult but rewarding. At the end of the day, with the release of the mind, you are no longer experiencing chaotic health issues but rather are in your right frame of mind.
"I am sincerely confident that there is life beyond your circumstances. It's not about money, or riches, for that too will pass. It's not about education, careers, success, or lifestyle that brings out that great significance in you, but it is about centering your mind on your Creator, the great master, controller of your holistic body. By him, your issues and tissues were formed and molded.
"But thou art he that took me out of my mother's womb; thou didst make me hope when I was upon my mother's breast. I was cast upon thee from the womb: Thou are my God from my mother's belly. -Psalm 22:9-10 (KJV)
"Thine hands has made and fashioned me together round about; yet Thou do destroy me. Remember, I beseech thee, that thou have made me as the clay; and wilt thou bring me into dust again. Has thou not poured me out as milk and curdled me like cheese. Thou hast clothed me with skin and flesh and has fenced me with bones and sinews. Thou hast granted me life and favor, and thy visitation hath preserved my spirit. -Job 10:8-12"
Published by Christian Faith Publishing, Millicent Robinson's new book is a motivating memoir and guide from a life that holds so much faith after the struggles she has suffered mentally, physically, and emotionally.
View a synopsis of "Issues In The Tissues: Your Struggles Will Not Defeat Your Destiny" on YouTube.
Consumers can purchase "Issues In The Tissues: Your Struggles Will Not Defeat Your Destiny" at traditional brick & mortar bookstores, or online at Amazon.com, Apple iTunes store, or Barnes and Noble.
For additional information or inquiries about "Issues In The Tissues: Your Struggles Will Not Defeat Your Destiny," contact the Christian Faith Publishing media department at 866-554-0919.