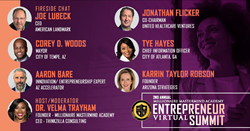 Our second annual summit is an outstanding opportunity to not only recognize underrepresented women owned businesses and entrepreneurs but to also provide guidance and resources that help aspiring business and civic leaders accelerate their initiatives," said Dr.Velma Trayham, founder of the Million
PHOENIX (PRWEB) December 08, 2020
Millionaire Mastermind Academy (MMA), a leading U.S. non-profit organization that aims to end poverty through entrepreneurship for women, will host its second annual Entrepreneur Summit on Monday, December 14, from 10 a.m. to 2:30 p.m. & MST, 12:00 pm to 4:30 p.m EST. Presented through a virtual format due to the ongoing COVID-19 pandemic, MMA's 2020 Entrepreneur Summit will equip attendees with the tools and resources needed to pivot their business strategies and plans in response to the health crisis . Led by MMA Founder, Dr. Velma Trayham, along with other world-renowned business experts, the virtual summit will ensure attendees can weather and overcome the economic effects caused by COVID-19.
Speaker series include: Advancing Women in Technology with Tye Hayes, chief information officer for the City of Atlanta; How to Do Business With the City, presented by Tempe Mayor Corey Woods; The Future of Entrepreneurship and Venture Capital with Jonathan Flicker, co-chairman of United Healthcare Ventures; Innovation to Disrupt Business, presented by Aaron Bare, strategist and author of "Reimagining Innovation"; The Road to Economic Recovery with Karrin Taylor Robson, founder of Arizona Strategies, and more.
"Our second annual summit is an outstanding opportunity to not only recognize underrepresented women owned businesses and entrepreneurs but to also provide guidance and resources that help aspiring business and civic leaders accelerate their initiatives," said Dr.Velma Trayham, founder of the Millionaire Mastermind Academy. "We are excited to bring Millionaire Mastermind Academy to Arizona, and we are proud to share that our upcoming entrepreneur summit will be free to all that attend thanks to our amazing sponsors."
The outbreak of COVID-19 has had a serious and adverse economic impact on businesses in the United States. Attendees will leave the summit with new tools and insight to not only survive but also thrive by sharing innovative business practices and pivot techniques by diving into solutions to empower innovation in entrepreneurship.
"The organization has already mentored more than 5,000 women through monthly entrepreneur accelerator programming, we believe that these types of initiatives and business resources can accelerate local economic recovery across the U.S.," says MMA Board member Nicole Michelle.
To register, visit https://www.eventbrite.com/e/entrepreneur-virtual-summit-tickets-130658018651
About the Millionaire Mastermind Academy
The Millionaire Mastermind Academy is a 501(c) (3), nonprofit organization whose mission is to educate and support the growth of women-owned business enterprises, thereby strengthening the economic impact in their community. We have mentored more than 5,000 women through our programs. For more information visit millionairemastermindacademy.org