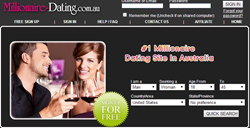 Millionaire Dating Site Australia
(PRWEB) February 23, 2014
Rich singles and Australian millionaires across the continent are invited to join the exclusive Valentine's Day Star 2014 event hosted by Millionaire-dating.com.au. The event is opened to both men and women and is still live until February 28, 2014.
The founder of Millionaire-dating.com.au excitedly announced: "Valentine's Day for us is more like "Valentine's Year" because we celebrate love and friendship seven days per week and 365 days of the year. That is why I am thrilled to host this event and I am very pleased with the overwhelming response so far. One winner has already been named but the event is not over."
The winners of the Valentine's Day Star 2014 are the ones with the highest votes. Members of the dating platform vote for their favorites and can cast as many as ten votes per day. All that is required to participate is to become a member of Millionaire-dating.com.au.
About Millionaire-dating.com.au
At Millionaire dating Australia, it costs nothing to join this new millionaire dating site. Also, the website offers a safe and friendly environment. It is an upper-class community that will in no doubt help millionaires find dates, friendship, or even the love of their lives. Simply choose the profile(s) that appeal to you and send a message; it's that simple!
To learn more about this site,please visit http://www.millionaire-dating.com.au