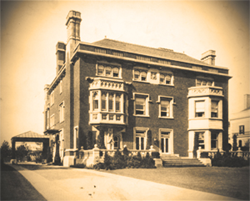 Our goal is to put to rest the old, uncomplimentary stereotypes that have been linked to Cleveland too long
Cleveland, Ohio (PRWEB) December 22, 2016
The Cleveland Storyteller, Dan Ruminski, will lead a bus tour of Millionaires' Row, ending at the Mather Mansion where he will deliver a special presentation.
Working cooperatively with the Visitors Center's Destination Cleveland program, Mr. Ruminski has committed to exposing visitors to the great historical treasures of Northeast Ohio.
"Our goal is to put to rest the old, uncomplimentary stereotypes that have been linked to Cleveland too long," says Ruminski.
The January tour for delegates of the American Bus Association is the first of a series of such events for The Cleveland Storyteller. The bus ride will move from Downtown past the Cleveland Clinic, down Millionaires' Row, and end at the mansion built by Samuel Mather.
Future tours will include The Cleveland Storyteller's presentations in other historical venues, including the former homes of the White, Beckwith, and Drury families in addition to Mather. These historical venues, not always accessible to the public, are intended to enhance visitors' encounter of Cleveland, creating a Downton Abbey style experience.
About
The Cleveland Storyteller's mission is to share the unique history that led the city to national and world recognition. Using little known, carefully researched stories, Dan Ruminski creates entertaining presentations of the history and helps promote Cleveland's greatness.
Mr. Ruminski was a teacher and coach at Gilmour Academy before going into business. But his passion for history remained, and he has become a recognized expert on Cleveland history. When he gave his first talk on Millionaires' Row at library, where 40 were expected, over 100 showed up.
The Cleveland Storyteller continues to research the families and history of Northeast, Ohio. The clevelandstoryteller.com website features his DVD and book, speaking schedule, and information on how to contact him for fundraisers. Learn more at ClevelandStoryTeller.com, or call Dan Ruminski directly at (440) 951-1323.