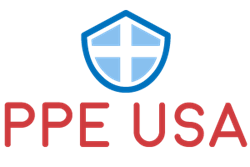 "We created this company and partnership after recognizing that we had the infrastructure in place to get PPE into the hands of essential workers quickly, safely and without the risk of sending large quantities of money overseas."
HUNT VALLEY, Md. (PRWEB) July 29, 2020
PPE USA, a supplier of personal protective equipment with fulfillment centers in Maryland and Pennsylvania, today announced a distribution partnership with Xiontao Zhong Yi, makers of NIOSH-approved N95 face masks. PPE USA is now the U.S. distributor of the ZYB-11 respirator, making millions of quality, affordable NIOSH N95 respirators available to U.S. companies on a weekly basis.
Massive shortages of PPE are causing unsafe work environments for essential workers, and many medical offices are unable to open. To fill this void, Xiontao Zhong Yi has been ramping up production from 3 million N95 respirators per week in July to 10 million per week starting in August. Through this partnership with PPE USA, government and healthcare customers can more readily access these high quality N95 masks. PPE USA has fulfilled orders for NIOSH-approved N95 face masks for hospitals, state and local governments, emergency responders, and other medical offices, in addition to other personal protective equipment such as face shields.
The ZYB-11 respirator is a NIOSH-approved N95 face mask, meaning it securely protects against dust, certain airborne biological particles, and allergens. The ZYB-11 was tested on May 28th by CDC group NPPTL. That test showed the ZYB-11 minimum filtration rate of 99.12%. The ZYB-11 is also approved for use in healthcare facilities by EUA. The mask comes in a universal size, is cellulose free, and is approved to be used with the Batelle decontamination system allowing it to be reused up to 20 times.
"PPE shortages around the world have made it extremely difficult for healthcare and essential workers to procure necessary life-saving equipment," said Ryan Millman, founder of PPE USA. "We created this company and partnership after recognizing that we had the infrastructure in place to get PPE into the hands of essential workers quickly, safely and without the risk of sending large quantities of money overseas."
"Our company has more than two decades of experience manufacturing personal protective equipment for use around the world, and we have worked tirelessly in recent months to keep up with global demand," said Kevin Zhang, General Manager at Xiontao Zhong Yi. "As we ramp up production of the ZYB-11 to 10 million per week, we are honored to partner with PPE USA for widespread distribution in the U.S. to get our masks to those on the frontlines of this pandemic."
"For over 30 years, I have led logistics teams in both the private and public sectors. The COVID-19 emergency, in my opinion, has been the most challenging time to get specific materials," said Jamie Cooke, COO of Montgomery County, MD. "The hole in the dam was the supply chain which most companies didn't focus on. The team behind PPE USA not only focused on the supply chain but improved it. As others couldn't move product, PPE USA streamlined their supply chain to become our most reliable PPE supplier."
Pricing for the ZYB-11 varies depending on quantity, and orders start at 10,000 units. For more information, please visit http://www.PPEUSA.com.
About PPE USA
PPE USA is committed to doing everything it can to support essential workers and those on the frontlines of fighting COVID-19. Learn more at http://www.PPEUSA.com.
Media Contact
press@ppeusa.com