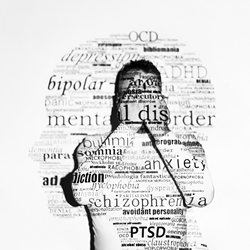 The tracks have had over 1.65 million streams on Spotify alone
LONDON (PRWEB) September 29, 2020
Exciting new Indie music artist Mark Hamilton and friends have been busy during lockdown calling attention to the silent epidemic of mental illness that has taken the lives of countless artists and individuals. Mark re-imagines inspiring songs by musicians who were lost too soon through suicide or drug abuse due to their mental health issues. He aims to break the stigma around mental illness. Through his music project 'Tune into Mental Health', he hopes to bring people together for an incredibly important, long overdue conversation.
Since the project started in June 2020, Mark has released 9 re-imagined cover songs from artists such as Nirvana and Linkin Park, both of whose frontmen took their own lives after suffering with mental health problems. The tracks have had over 1.65 million streams on Spotify alone and his YouTube videos have had over 340,000 views.
Key to Mark's sound is the phenomenal electric violin (Performed by Jan Galach) that accompanies all the tracks, often mistaken by listeners for an electric guitar.
When Mark has completed 15 tracks he plans to release a special, limited edition book-bound CD with the profits from its sale going to Rethink, a UK Mental Health Charity that works to improve the lives of people severely affected by mental illness.
You can show your support for Mark's mental health awareness project by following him on Spotify or subscribing to his YouTube channel and sharing his music. Mark hopes to show people who are suffering that they are not alone and that there is a huge community of people reaching out their hands.
When the Coronavirus lockdown froze his music event business in March 2020, Mark was left with no business and a multitude of problems that started to affect his mental health. To help himself, instead of organising music events he went back to his first love, making music, as a way of managing his own mental health whilst he dealt with the fallout of Coronavirus on his livelihood. Reaching out to old friends and other professional musicians, Mark found they were having their own struggles and that many people across the globe were also struggling with their mental health due to lockdown, losing their jobs or businesses, and having to find a way to adjust to a different way of life that may last long after Coronavirus. Mark wanted to create a music project that focused on raising awareness and breaking the stigma of mental illness and at the same time celebrate the genius of great musicians who had themselves suffered with mental health problems.
As a teenager Mark had found solace in the music of his age; Nirvana and later Linkin Park amongst others. Sadly, many of his musical influences had lost their lives due to their own struggles with mental illness, which often led to excessive drug or alcohol use as a coping mechanism; and so his first project, a re-imagined cover of Linkin Park's 'One More Light' was born. One More Light had a double significance during lockdown, as the video created to accompany the track shows. When released on You Tube it was a huge success, gaining more than 60,000 views in just a few weeks. That led Mark to believe that he could use his music to not only raise awareness, but funds to support the work of mental health charities.
Currently the project consists of a selection of 15 tracks by Linkin Park, Nirvana, INXS, Audioslave, Soundgarden, The Doors, Alice in Chains, Avicii, Joy Division, Jimi Hendrix and Janis Joplin, whose great careers and promise were cut short by mental illness and drug/alcohol abuse. 10 tracks have been released on YouTube, 9 on Spotify, with the rest due between October 2020 and January 2021. There is a multitude of research to show that music can be effective therapy for those struggling with their mental health, whether making music or as a listener. A pivotal function of music is to enhance socialisation by bringing people together in a shared experience. It creates discussion, and in the age of Facebook, YouTube and other social media, Mark hopes that his music will generate a following that will engage in discussion, not just about the music, but also about mental health.