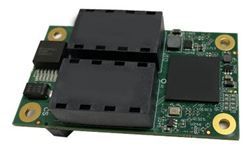 LOS ANGELES (PRWEB) April 15, 2020
MilSource today announced the availability of Techaya's MILTECH 718, a cost-effective, ruggedized, unmanaged Gigabit Ethernet switch on board (GESoB) in a compact footprint of just 2.7" x 1.5" x 1.1". With a board-to-board connector, the MILTECH 718 is ideal for robotic and UAV payloads that need simple switching at gigabit Ethernet speeds.
Techaya has a reputation for delivering the most rugged, compact board-level switches on the market today. Like all board-level products from Techaya, the MILTECH 718 is conformally coated and designed from the ground up to meet MIL-STD-461F, MIL-STD-810F/G and IP68 requirements when housed in appropriate enclosures. Consuming only 5 watts of power with a range of 9-32 Vdc, the MILTECH 718 is a flexible solution for differing power profiles.
"The MILTECH 718 rounds out the Techaya 8 port board solutions nicely," said Ronen Isaac, general manager of MilSource, exclusive distributor of Techaya MILTECH products in the United States. "While delivering Gigabit Ethernet speed that many video and sensor applications need, it's a 'set and forget' solution for less complex payloads."
For more information about the MILTECH 718, or other MILTECH products, please visit MilSource at http://www.militaryethernet.com.
About MilSource
MilSource is focused on bringing innovative, rugged, military-grade Ethernet communications solutions the military and aerospace markets for both manned and unmanned systems. MilSource is the exclusive U.S. distributor of Techaya's MILTECH line of military-grade switching, routing and other communications solutions. For more information on MilSource or the Techaya product line, go to http://www.militaryethernet.com.
About Techaya
Techaya Inc. is a prime developer, innovator and manufacturer of military-grade, ruggedized COTS and customized IP-based communication solutions where extreme conditions and unique tactical requirements are the norm. Their MILTECH products and solutions are designed for military rugged and unique applications involving extreme environmental conditions. They are tested and certified by an external accredited laboratory for MIL-STD-810F, MIL-STD-461E, MIL-STD-1275B, MIL-STD-704A, HIK-7 and IP68. Visit http://www.techaya.com.
###