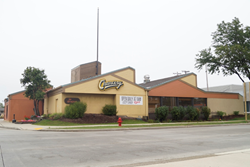 Milwaukee, WI (PRWEB) September 29, 2015
Micoley.com is excited to announce it is partnering with the seller of the Chancery Restaurant located within the city limits of a major American city. Suffice it to say, entrepreneurs looking to launch or invest in a restaurant need to look no further.
Not only does the former Chancery Restaurant (constructed in 1981 but updated frequently since) contain the essentials a restauranteur needs -- an entrance/reception area, open dining areas, a bar, a kitchen, storage areas, several restrooms -- but the property cannot be beat location-wise, as well. Located on South 27th Street in Milwaukee, plenty of potential customers pass the restaurant on a daily basis, and the property is close in proximity to Interstates 894 and 43, as well.
Micoley.com founder & CEO Wade T. Micoley is ecstatic about the opportunity to work on a property so close to the company's headquarters in Green Bay: "The Chancery chain of restaurants are a fixture in the state of Wisconsin. It's an enormous honor for our team to be instrumental in finding someone new to take over the former Milwaukee location and carry on the Chancery legacy with new ownership and, ultimately, a new restaurant."
The entire property is 1.434 acres and spread across two parcels, with two paved parking lots with a total capacity of about 140 vehicles. The square footage of the building is 8,000; there is also an unfinished basement that can be used for extra storage. The restaurant equipment and fixtures are not included in the sale. A liquor license is also not included in the sale; however, a new one may be obtained from the city. The complete address of the property is 4560 & 4624 S 27th Street Milwaukee, WI 53221.
The property is listed at $1,350,000 with an opening bid of $895,000 if no offer is received before the December 2 auction.
The motivated sellers of this property have indicated that they plan to entertain early bids-offers and will remove the property from the event with an acceptable offer. Buyers are most likely already researching this high profile property, and coming to decisions about whether to make a purchase.
Interested parties should visit micoley.com to find more photos and details about the property, or visit in person and perform and inspection on site, which is highly recommended. (866) 371-3619 is Micoley.com's information line. Additionally, Micoley.com features a live chat service through which questions can be answered.
About Micoley.com:
Green Bay, Wisconsin-based Micoley.com is a real estate marketing firm specializing in project focused auctions and sales events of bank-owned and traditionally listed Real Estate throughout the United States. The Micoley.com approach to Real Estate marketing tailors each auction plan to the client's individual needs. The site is constantly being updated for the benefit of buyers, as large-scale auction events are held quarterly, and new properties are added daily.