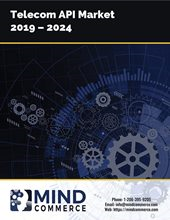 This is the 7th Year of Telecom API Market Coverage by Mind Commerce
SEATTLE (PRWEB) April 02, 2019
Application Programming Interfaces (API) are a fundamentally recognized term in all IT-centric industries. Virtually all enterprise verticals use APIs to allow them to collaborate more closely with external partners such as application developers and third-party service providers.
The mobile communications industry is no different in this respect. Carriers worldwide are recognizing that collaborating with partners using APIs can be used to generate new sources of revenue, drive innovation, increase competitiveness and retain and attract new customers.
In collaboration with Ribbon Communications, AT&T has recently launched a Telecom API based Communication Enabled Application Marketplace, which is something that Mind Commerce has recommended since 2011. Ribbon is also working with Koninklijke PTT Nederland (KPN) to support the KPN API Store.
For many larger Telecom API market vendors, a substantial proportion of revenue continues to be generated from SIP Trunking in support of their client's VoIP, UC, and other IP-based communications apps and services. However, many smaller players are innovating in areas that have high growth potential such as analytics data, device information, edge computing, and number management for calls, data, and subscribers.
Longer term, Mind Commerce sees CSPs leveraging Telecom APIs and related tools to support a variety of industry requirements in which carriers are amply positioned to leverage their market position. Those opportunities include Internet of Things (IoT) authentication, robotics, Artificial Intelligence (AI) platforms, and Mobile Edge Computing (MEC).
IoT in particular represents a huge and largely untapped market for CSPs, which Mind Commerce sees emerging once carriers begin to fully leverage 5G for IoT apps and services. Mind Commerce has identified the opportunity for carriers to act as a orchestrator/mediator within the IoT ecosystem.
Edge Computing related Telecom API market revenue reaches $395M in North America by 2023. Total global Telecom API related revenue will reach $442.1.1B by 2024. The study covers all major regions. While smallest in revenue at $48.6B by 2024, MEA is fastest growing region at CAGR 31.7%. Telecom API support of IoT remains a high priority cellular operator-only opportunity
The Mind Commerce Telecom API Market Sizing and Analysis Report by Technology, Application and Service Type, Stakeholder, User Type, Deployment (Enterprise Hosted, Public Cloud, Private Cloud), and Platform as a Service Type 2019 – 2024 provides an in-depth assessment of the global Telecom API market, including business models, value chain analysis, operator strategies and a quantitative assessment of the industry from 2019 to 2024. This report evaluates the current state of the market and outlook for the future including analysis and forecasts for the Telecom API market segmented many ways including:

Globally, Regionally, and Countries
Stakeholder Type (Carriers and Vendors)
Network Technology (2G, 3G, LTE, and 5G)
API Category (Presence, Location, SCM, etc.)
App Developer (Carrier, Enterprise, Long Tail, and Partner)
Deployment Type (Enterprise Hosted, Private Cloud, and Public Cloud)
Implementation (Development and Set-up) and by Ongoing Operations
Solution (AI, Analytics, Blockchain, Edge Computing, Robotics, WebRTC, etc.)
Telecom API Market sizing by Service Type includes: Messaging (SMS, MMS, RCS) API, WebRTC API, Payment API, IVR/Voice Store and Voice Control API , LBS and Map API, Subscriber Identity and SSO, Management API, Content Delivery API, M2M IoT API, IoT Platform Specific API, IoT Authentication API, Blockchain Specific API, AI Platform Specific API, Robotics Specific API, Analytics API, Call screening API, Device Information API, QoS (Quality of Service) API, Do not Disturb API, Edge/Fog Device Specific API.
Forecasts by Developer Type include: Enterprise Developer, Internal Telecom Developer, Partner Developer, and Long Tail Developer.
Forecasts by Deployment include: Enterprise Hosted, Public Cloud, and Private Cloud. Platform as a Service forecasts include: CPaaS and UCaaS.
All purchases of Mind Commerce reports includes time with an expert analyst who will help you link key findings in the report to the business issues you're addressing. This needs to be used within three months of purchasing the report.
About Mind Commerce
Mind Commerce is an ICT strategy company that has focused exclusively on Information and Communications Technology (ICT) for over twenty years. Our ICT reports provide key trends, projections, and in-depth analysis for infrastructure, platforms, devices, applications, services, emerging business models and opportunities.
The Mind Commerce ICT consulting practice covers many important telecom and IT topics with a concentrated focus on certain key emerging and highly disruptive technology areas including: Artificial Intelligence, Broadband, Cloud Computing, Data Management Analytics, Edge Computing, Immersive Technologies (Augmented and Virtual Reality), Industrial Automation, Internet of Things, and Robotics.
We focus on key emerging and disintermediating technology areas for service providers, technology providers, developers (communications, applications, content, and commerce), systems integrators and consultants, government organizations and NGOs, and the financial community. Visit us at https://mindcommerce.com/
MEDIA: We welcome discussions about our research in support of your news article, blog, or professional industry portal.
Contact us via email at Contact(at)MindCommerce(dot)com or Call: +1 206-395-9205