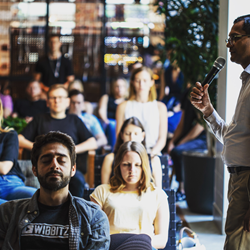 When someone has been hurt or embarrassed by some form of email or in-person communication, their mind becomes disturbed and clouded and this prevents clarity of thought and judgment.
NEW YORK (PRWEB) October 02, 2018
According to a study published by the World Economic Forum, "Company culture was give as one of the main reasons employees quit." A positive and engaging workplace is key factor for employee retention. Work environments become toxic when bosses openly begin favoring some employees over others. This could be the result of unconscious biases. We all carry around biases that were developed by situations we experienced during the earlier part of our life. We began judging, liking and disliking certain races, ethnicities and cultures due to the positive and negative exchanges we had. As a leader, boss or supervisor, it is imperative to recognize what baggage we're carrying around and how we might be mistreating and neglecting some while encouraging others. This type of behavior will end up isolating the workforce which will lead to a deterioration of trust which is essential for a proper flow of communication.
Mindfulness leadership training can help individuals get in touch with their thoughts, emotions and behavior patterns. When leadership begins to improve their self-awareness, then they can progress down the path of improvement. Many misunderstand mindfulness as simply sitting and meditating. Mindfulness, when applied to a leadership context, is much more than closing your eyes and breathing. As leaders learn techniques to train their mind to avoid knee-jerk responses and to remain calm and collected during heated meetings and interactions, they are able to improve their responses and prevent the ruination of relationships.
Another key aspect of developing into a mindful leader is incorporating skills that allow for communication to have a compassionate tone. Too often tasks and feedback are communicated without sensitivity and empathy. Leaders and managers fail to comprehend the detrimental impact this has on an employees' engagement, loyalty, trust and overall productivity. When someone has been hurt or embarrassed by some form of email or in-person communication, their mind becomes disturbed and clouded and this prevents clarity of thought and judgment. Hence, it is crucial for those in leadership roles to become mindful of not only the words they choose, but also the tone and body language that is coming across.
When working with high-achieving corporate professional, former monk and Mindful Leadership Expert, Pandit Dasa, emphasizes that developing mindful leadership qualities and changing workplace culture isn't a quick fix. There's no secret or shortcut. It requires a desire and willing to look at one's tendencies with honesty. It means paying attention to the needs of the workforce and keeping their best interest in mind and not letting the ego get inflamed when someone disagrees with us. Developing and maintaining a mindfulness meditation practice centered around self-awareness and self-control is vital. These practices help reduce the overall tension and stress in the body which naturally allow us to think and act with clarity. As with any practice to bear fruit, it needs to be consistent.
About Pandit Dasa
During his 15 years as a monk in New York City, Pandit Dasa, gave hundreds of speeches on college campuses around the country on the topics of living mindfully, work-life balance and stress management. Post-monk life has taken Pandit Dasa into many corporations, many of which are Fortune 500 companies, where he enlightens and inspires his audiences to develop mindful leadership qualities focused on the happiness and well-being of the employees. More information about his speech topics and workshops can be found on his website panditdasa.com.