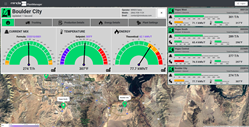 The PlantManager software has opened windows into multiple plant processes that were previously unavailable to the industry, thanks to the use of aggregated data and MINDS' sophisticated software development expertise
KELOWNA, British Columbia (PRWEB) October 08, 2019
MINDS Inc., a leader in advanced customizable asphalt pant control systems, is pleased to showcase its PlantManager multi-plant dashboard software.
PlantManager, a sophisticated enterprise asset management software, allows asphalt plant managers to gain a 30,000-foot level view of their company's plants, all in one powerful dashboard. Managers can spot issues at a glance and drill down into critical production and job data.
The PlantManager software has opened windows into multiple plant processes that were previously unavailable to the industry, thanks to the use of aggregated data and MINDS' sophisticated software development expertise. The software allows all the MINDS-equipped plants in a company's arsenal to share relevant data, which gives management teams a one-stop-shop for viewing plant production, configuring and generating reports, tracking plant health and more. Managers can use this powerful asphalt plant control system to look deeper into their individual plants, where analog-style gauges make it easier than ever to track the temperature, energy consumption and mix rate of production.
MINDS has continually improved this plant control system for many years and is proud to be able to offer its customers an impressive level of control and customization. The PlantManager asphalt plant software is available to managers who operate multiple sites that use MINDS' individual plant management systems and can be used on tablets and PCs.
"PlantManager is one of the very exciting applications we have launched in 2019. Customers who have many systems from us wanted a simple, meaningful dashboard to monitor all their asphalt production assets in real-time" says Pierre Vidaillac, CEO of MINDS Inc. "PlantManager does exactly that, and will also be used as an entry point to dive into more granular layers of information. We are building our success through listening to our customers and continuing to develop new technologies and features around our core automation solutions."
Managers will benefit from the following PlantManager software features:

1. Production rates from each of your plants, and information on whether they meet your benchmarks
2. View of the current mix design name in production
3. Current mix temperatures from each of your plants and whether they fall within your chosen range
4. An extensive log of plant production, which includes a custom date/time range and is sortable by mix
5. Energy output per ton of mix produced, using theoretical numbers unless additional sensors are purchased, installed and configured, as well as a log of that output over time
6. All logs can be exported as spreadsheets for easy reporting to other departments
7. All units and tolerances for PlantManager are customizable within the software
8. Ability to look into trucking details, with a subscription to JobLink, which involves: configurable reporting with custom date/time range, rotation of trucks per job, per ticket or per time spent, and job statistics, such as number of trucks, rotations and loads, average time and more)
9. Ability to look into asphalt oil tanks with a subscription to TankFarm, and hot mix silo storage amounts, which includes: individual tank or silo storage amounts, temperatures and product names, and the ability to change asphalt oil tank heating values & schemes
To learn more about MINDS' PlantManager software contact:
MINDS USA
2430 N. Decatur Blvd #120
LAS VEGAS, NV 89108
USA
contact[at]mindsusa[dot]com
+833 646 3787
ABOUT MINDS INC.
MINDS is an industry leader in advanced customizable asphalt plant control systems for continuous, discontinuous, combo/hybrid hot mix plants, emulsion and modified bitumen plants. It also handles silo load-out, ticketing and data management software for the asphalt industry. Incorporated in 1994, MINDS has more than 25 years of experience in producing asphalt quality control, plant automation and plant maintenance software and systems. MINDS' solutions have been installed in more than 500 locations worldwide.