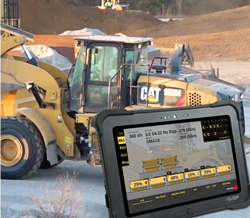 We are very proud to have received this award and to see that more and more asphalt producers choose MINDS as their preferred plant control solution
KELOWNA, British Columbia (PRWEB) May 30, 2019
MINDS Inc., a leader in advanced customizable asphalt plant control systems, is proud to announce its LiveLoader in-cab production dashboard for loaders has received one of Asphalt Contractor's 2019 Top 30 Editor's Choice Awards.
MINDS' LiveLoader asphalt plant software takes plant-to-loader communication to the next level by making all the vital information loaders need to do their job available on one easy-to-understand tablet inside the cab. Data on current mix and percentages, the next scheduled mix, feeders in use, levels, no-flow sensors and more are graphically displayed to be easily understandable, and the information is always up to date. The software is available for asphalt batching plants and drum plants, and can receive information from MINDS' DrumTronic and BatchTronic plant control systems.
"Innovation and a constant push for improvement are at the top of the list of what motivates us at MINDS. We are very proud to have received this award and to see that more and more asphalt producers choose MINDS as their preferred plant control solution," says Pierre Vidaillac, CEO of MINDS. "LiveLoader is a very exciting application that leverages Internet of Things technologies to help avoid an often undetected but severe quality issue in hot mix asphalt production: mismatch or lack of materials in the cold feed bins."
Asphalt Contractor, the premier magazine for asphalt producers and contractors, gives out Editor's Choice Awards to the construction industry's most preferred products, equipment or services. The winners, which are determined by the magazine's editorial team and contractors themselves, must pass certain criteria to be considered for the prestigious award, including the most searched products on ForConstructionPros.com, equipment innovations that are gaining attention and traction on jobsites, and products that have sparked social media engagement.
"The products chosen reflect the best of the best in the industry," says Jessica Lombardo, Asphalt Contractor's editor. "From new equipment to trending products, the Top 30 Editor's Choice Awards is an ideal resource for contractors."
MINDS knows loader operators love LiveLoader because it makes their lives easier: a quick glance at the cab-mounted display screen tells them what rock they should load next. Plant managers love the quality management software because it makes the plant more profitable through increased efficiency. This award demonstrates that MINDS' focus on win-win technologies like LiveLoader is paying off and being appreciated by customers. While other companies in the space are diversifying into other industries, MINDS has doubled down on core plant automation and plant control systems for its asphalt industry customers.
"In 2019, MINDS is introducing many exciting and innovative mobile applications around its core plant automation system like TankFarm, PlantManager and LiveLoader in order to increase productivity and reduce downtime at the plant," says Stuart Baker, senior project manager at MINDS USA.
ABOUT MINDS INC.
MINDS is an industry leader in advanced customizable asphalt plant control systems for continuous, discontinuous, combo/hybrid hot mix plants, emulsion and modify bitumen plants, silo load-out, ticketing and data management for the asphalt industry. Incorporated in 1994, MINDS has more than 25 years of experience in producing asphalt quality control, plant automation and plant maintenance softwares and systems. Our solutions have been installed in more than 500 locations worldwide.