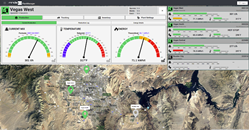 PlantManager is a powerful, intuitive dashboard for plant managers. Winning this award speaks to the quality of our product and to our first-rate design team that always listens to our industry about what they need in a product
KELOWNA, British Columbia (PRWEB) May 12, 2020
MINDS Inc., a leader in advanced customizable asphalt plant control systems, is delighted to announce its PlantManager dashboard has received one of Asphalt Contractor's 2020 Top 30 Editor's Choice Awards.
PlantManager is a powerful asphalt plant overview system that gives plant managers real-time data on key metrics such as aggregate usage, production tons per hour, asphalt and rap content, binder replacement, energy usage and other plant management metrics, all in one place. The dashboard also gives plant managers access to information on sales tickets, silo inventories, asphalt tank inventories and more.
"PlantManager is a powerful, intuitive dashboard for plant managers. Winning this award speaks to the quality of our product and to our first-rate design team that always listens to our industry about what they need in a product," says Mark McGaughey, MINDS' Director of US Operations. "We appreciate our development team for creating such a great interface."
Asphalt Contractor, the premier magazine for asphalt producers and contractors, gives out Editor's Choice Awards to the construction industry's most preferred products, equipment and services. Winners are determined by the editorial team and contractors themselves, and must pass specific criteria to be considered for these prestigious awards, including being one of the most-searched products on ForConstructionPros.com, equipment innovations that are gaining attention and traction on the job site, and products that have generated social media engagement.
"Contractors nationwide use this as a guide to find premier equipment innovations gaining traction on the job site," says Cathy Somers, Asphalt Contractor's Associate Publisher. "With advancements in technology, it is our responsibility to have resources such as the Top 30 Editor's Choice Awards to assist them with the ever-changing growth in the trades."
"The products chosen reflect the best of the best in the industry," adds Jessica Lombardo, Asphalt Contractor's editor. "From new equipment to trending products, the Top 30 Editor's Choice Awards is an ideal resource for contractors."
Plant managers love MINDS' sophisticated PlantManager software because it gives them a 30,000-foot level view of their company's plants, all in one powerful dashboard. Managers can spot issues from a glance and drill down into critical production and job data. The asphalt plant software has opened windows into multiple plant processes that were previously unavailable to the industry.
PlantManager will be included in the May issue of Asphalt Contractor and on ForConstructionPros.com.
For more information, please contact:
Pierre Vidaillac
CEO
pvidaillac[at]mindsusa[dot]com
1-866-505-8893
ABOUT MINDS INC.
MINDS is an industry leader in advanced customizable asphalt batch and drum plant control systems, combo/hybrid hot mix plant controls, emulsion and modified bitumen plants, silo load-out, ticketing and data management for the asphalt industry. Incorporated in 1994, MINDS has more than 25 years of experience in producing hot-mix plant controls, asphalt plant automation and plant maintenance software and systems.