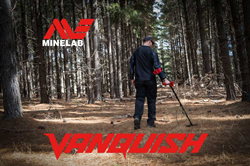 "We are thrilled to host Josh Gates at CES," says Vice President of Global Marketing, Michelle Meyers. "He has helped bring metal detecting into the mainstream and is sure to have exciting stories to share."
LAS VEGAS (PRWEB) January 06, 2020
Minelab, the world leader in metal detecting technology, returns to CES in Las Vegas January 7-10, 2020 with its latest metal detector and one of the Discovery Channel's most popular personalities.
Josh Gates, host of the Discovery Channel's Expedition Unknown, will be at the CES Minelab Booth 44955 in the Sands Hall A-D on Tuesday, January 7 from 2:00 p.m. until 4:00 p.m. and Wednesday, January 8 from 1:00 p.m. until 3:00 p.m., where he will meet attendees, sign autographs and share his experiences.
"We are thrilled to host Josh Gates at CES," says Vice President of Global Marketing, Michelle Meyers. "He has helped bring metal detecting into the mainstream and is sure to have exciting stories to share."
Minelab will feature its full roster of metal detectors at the booth, including the company's new metal detector, VANQUISH, which has already been touted as one of the highest quality metal detectors for the lowest price available today. VANQUISH combines the flexibility and lightweight features of the GO-FIND with the advanced detecting technology of the EQU|NOX. It is perfect for the everyday hobbyist starting at a value price of only $199.
A Minelab Booth Party to see VANQUISH up close is scheduled for Wednesday, January 8 from 4:00 p.m. until 6:00 p.m. All attendees will receive a free Minelab hat.
Michelle Meyers is once again participating in a Kids@Play/Family Tech Summit panel, where she will highlight the role metal detection continues to have as the analog and digital worlds intersect. The session, entitled "Firing on All Sensors" will take place on Thursday, January 9 from 3:30 p.m. to 4:30 p.m. in the Venetian Level 4 Lando room 4302. From the conference website: "Parents raising the next generation of innovators focus on growth, using technology to extend a real experience from writing, listening or exploring, we've finally mastered how to meld high tech with rich sensory experiences."
The official roster of Minelab events is as follows:

Tuesday, January 7 (2:00 p.m. – 4:00 p.m.) – Josh Gates Meet-and-Greet
Wednesday, January 8 (1:00 p.m. – 3:00 p.m.) – Josh Gates Meet-and-Greet
Wednesday, January 8 (4:00 p.m. – 6:00 p.m.) – Minelab Booth Party
Thursday, January 9 (3:30 p.m. – 4:30 p.m.) – Michelle Meyers' panel session
ABOUT MINELAB:
Minelab is an Australian, multi-award winning business that has successfully scaled world markets to command global leadership in its key areas of operation. Based in Mawson Lakes, South Australia, with regional offices in Cork, Ireland, Dubai, UAE, Chicago, U.S., and Itajai, Brazil the company specializes in advanced electronic technologies. Since its origins in 1985, Minelab has been the world leader in providing metal detecting technologies for gold prospecting, treasure hunting and landmine clearance. Through devotion to research and development and innovative design, Minelab is today the major world manufacturer of hand-held metal detector products. Over the past 30 years, Minelab has introduced more innovative and practical technology than any of its competitors and has taken the metal detecting industry to new levels of excellence. To learn more about Minelab, visit http://www.minelab.com.