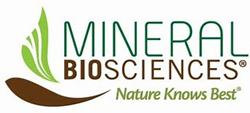 Ioniplex® has the unique ability to maximize numerous dietary supplements and provide your customers the full effect of your product offers.
PHOENIX (PRWEB) October 26, 2021
Mineral BioSciences® (MBS), a leading manufacturer of fully-soluble, highly bioavailable, ionic-nano trace minerals, will be showcasing new research regarding the branded, leading bioavailability enhancing absorption aid, Ioniplex® while exhibiting at SupplySide West in Las Vegas at Booth #5340.
Ioniplex® is produced using a highly bioavailable mineral complex derived and extracted from Humic and Fulvic materials mined from ancient vegetation deposits. Using patented and proprietary equipment cellular infusion technology, this material is processed into Ioniplex, a nano compound comprised of over 65 ionic trace minerals. Ioniplex has been shown in multiple in vitro, in vivo, and clinical studies to penetrate cell membranes and carry other constituents into the cellular mitochondria where they can be fully utilized.
Ioniplex can maximize the benefits of products in sports nutrition, wellness, CBD, beauty, and blood sugar support products. As a mineral, it is highly unique as it is 100% plant based and no chemical processes are used in its extraction. Ioniplex represents a giant leap forward in bioavailability enhancement and represents a revolution in fulvic acid products. Ioniplex has the power to make most ingredients more bioavailable and brings with it highly researched inherent benefits making it a powerhouse player in the specialty raw ingredient market. As a Fulvic nano Ionic Mineral Complex™, Ioniplex® supports the body's natural functions to optimize cellular function for better health and wellness. Ioniplex® is extremely functional in dietary supplements, topicals, liquid and dry consumables as well as many other applications.
SupplySide West is the largest gathering of health and nutrition industry professionals focused on ingredient supply, manufacturing, dietary supplements, personal care, and sports nutrition innovation. Exhibitors are given the opportunity to discover new ingredients, connect with new business leads and experts, and source suppliers, packaging, and services for business growth.
"We look forward to educating attendees on the numerous applications of Ioniplex® and developing new business partnerships during the trade show," said Luke Blotsky, CEO of Mineral BioSciences. "Ioniplex® has the unique ability to maximize numerous dietary supplements and provide your customers the full effect of your product offers."
Professionals and attendees can stop by Booth #5340 to learn more about Ioniplex® and its benefits – and to talk about how this leading absorption aid can become their source of premium fulvic acid.
For more information about Ioniplex®, visit http://www.ioniplex.com.
About Mineral BioSciences®
Mineral BioSciences® is a division of the Global Organics Group and is focused on human and animal health and wellness. As one of the largest food-grade fulvic acid manufacturers in the United States, our operation produces our signature ingredient, Ioniplex®. Our patented extraction process results in a chemical-free organic product. For more information, visit mineralbiosciences.com.