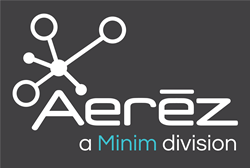 "Now part of the Minim team, we will be able to expand hardware choices for our customers, offer cutting-edge IoT fingerprinting and security, develop features faster, and better serve more operators." - Candice Perea, former Aerez CEO
MANCHESTER, N.H. (PRWEB) February 04, 2019
Minim, the cloud-managed WiFi and security platform, announced today that it has acquired MCP Networks, creators of Aerez, a leading managed WiFi solution built for Wireless Internet Service Providers (WISPs). Aerez provides WISPs with a 30 percent cost savings on support and a premium user experience through a complete managed Mikrotik router service, subscriber mobile app, and integrated support tools. Minim will integrate Aerez's innovative Quality of Experience (QoE) functionality and Mikrotik router support into its platform, giving the combined customer base access to more hardware choices and advanced managed WiFi and IoT security features.
"Bringing Aerez into the Minim family made perfect sense," said Jeremy Hitchcock, founder and CEO of Minim. "We have a shared vision to help service providers and their subscribers easily manage their networks as the average number of devices per connected home is already at nine and growing. I was hooked on Aerez the moment I saw the ease of use of their app. They can prioritize my bandwidth over my kids' bandwidth and offer automatic YouTube safety mode settings on childrens' devices. I thought, Minim customers need that."
Minim is the only residential managed WiFi and security Software as a Service (SaaS) that gives service providers the freedom of choice in equipment and feature set, lowering implementation costs and eliminating CPE vendor lock-in. Recently awarded a 2019 IoT Breakthrough Award for Consumer Product of the Year, the company has developed proprietary technology to fingerprint, manage, and secure all connected devices in the smart home, with no user configuration required.
"We are thrilled to join Minim," said Candice Perea, former Aerez CEO and now lead of product at Minim. "As a startup, we built Aerez with extreme focus on the WISP's needs and the Mikrotik platform. Now part of the Minim team, we will be able to expand hardware choices for our customers, offer cutting-edge IoT fingerprinting and security, develop features faster, and better serve more operators."
The Aerez team will maintain offices in Fargo, ND as a division of Minim. Both companies are vendor members of WISPA, a 501.c6 advocacy organization that promotes the development, advancement, and unification of the WISP industry.
"Seeing WISPA members grow and succeed is a wonderful thing," said Claude Aiken, president and CEO of WISPA. "Minim has worked to help WISPs convert smart home support pain points into opportunities, offering services such as whole home WiFi, smart home support, and IoT security. Our members succeed by delivering a better customer experience, and smart home evolution is a key component of that."
To learn more, WISPs can see both Minim and Aerez platforms at at the upcoming WISPAMERICA, March 19 - 21st, 2019, in booth 620, or visit http://www.minim.co and http://www.aerez.net.
About Minim
Minim is a cloud WiFi management platform that enables and secures a better connected home. Minim's Software as a Service (SaaS) helps operators increase revenue and reduce support costs by offering a premium managed WiFi service to their subscribers via customer premise equipment of their choosing. Subscribers benefit from best-in-class customer support, an easy-to-use mobile app, parental controls, AI-powered network recommendations, and more. Recently named 2019 Consumer Product of The Year in the IoT Breakthrough Awards, Minim is now partnering with service providers and consumer device manufacturers who want to help make home connectivity as safe and reliable as drinking water. To learn more, visit http://www.minim.co.