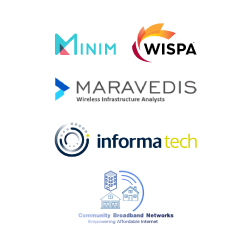 "We are proud to support this webinar. Attendees can expect real talk about improving the broadband experience in the face of growing network complexity in the home." - Minim Founder and CMO Nicole Hayward
MANCHESTER, N.H. (PRWEB) November 21, 2019
Minim, the cloud-managed Wi-Fi and IoT security platform for smart homes, today announced it will sponsor a live webinar, Managed Wi-Fi and Security for the Smart Home 2020-2025, on December 3, 2019 at 11 am EST in collaboration with leading wireless infrastructure analyst, Maravedis. The webinar will uncover key trends and report findings on providing quality of experience to the connected home, including a unique and extensive survey of service providers about their product roadmaps through 2025.
Moderated by Adlane Fellah, Senior Analyst and Founder of Maravedis, the presentation will feature the following speakers:

Mike Wendy, Communications Director, Wireless Internet Service Providers Association (WISPA)
Thomas Magg, President, Community Broadband Networks
Chris Silberberg, Conference Producer, Informa Tech's Conference portfolio
Andy Piggott, SVP Customer Success, Minim
"Managing the quality of the broadband experience in the home is a priority for most service providers, and Wi-Fi is the centerstage of that strategy," said Fellah. "The recent Maravedis survey found that most operators are motivated to improve quality of experience by the reduction in OpEx and improvements of their NPS score... As a result, managed Wi-Fi is a fast-growing market and will reach a 29% penetration of the total broadband lines in service by 2025. This will be a timely dialogue about insights like these from the perspective of industry association, service provider, and vendor members."
Key topics for the upcoming webinar include: the leading causes of Wi-Fi performance issues in the smart home; latest trends in managed Wi-Fi features sought by service providers; strategies regarding the monetization of home Wi-Fi; the security and connectivity implications of the connected smart home; respective initiatives by various associations to address home Wi-Fi; takeaways from the recent WISPA and Broadband World Forum events; and expected managed Wi-Fi and security innovations to come in the next 12-18 months.
"We are proud to support this webinar. Attendees can expect real talk about improving the broadband experience in the face of growing network complexity in the home," said Nicole Hayward, Founder and CMO of Minim. "I'm especially looking forward to a case study by Minim customer Community Broadband Networks about how they solved operational challenges and improved customer satisfaction."
For more information and to register for the webinar, Managed Wi-Fi and Security for the Smart Home 2020-2025, visit this link.
About Minim
Minim is a cloud Wi-Fi management platform that enables and secures a better connected home. Minim's Software as a Service (SaaS) helps operators increase revenue and reduce support costs by offering a premium managed Wi-Fi service to their subscribers via customer premise equipment of their choosing. Subscribers benefit from best-in-class customer support, an easy-to-use mobile app, parental controls, AI-powered network recommendations, and more. The company is now partnering with service providers and consumer device manufacturers who want to help make home connectivity as safe and reliable as drinking water. To learn more, visit https://www.minim.co.
About Maravedis
Maravedis LLC is a premier wireless infrastructure analyst firm. We focus on broadband wireless technologies (including 5G, LTE, Wi-Fi, small cells, core, and backhaul), as well as the industry spectrum regulations and operator trends.
Since 2002, Maravedis has provided clients worldwide with strategic insight to help them achieve key business objectives. Clients can access Maravedis technology, spectrum, and market intelligence through subscription-based research services—such as reports, webinars, online databases, analyst support, and briefings—as well as custom consulting engagements.
More information about Maravedis LLC is available at:
http://www.twitter.com/maravedis
http://www.maravedis-bwa.com