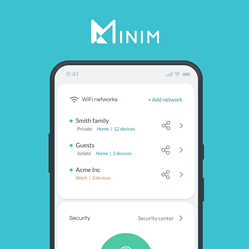 "We're breaking down the barriers between consumer and business networking because that's our new reality."
MANCHESTER, N.H. (PRWEB) September 24, 2020
Minim, the AI-driven managed WiFi and security platform, today announces a revolutionary "Work-Life WiFi" feature set, becoming the first-ever unified networking solution for businesses to support remote internet connectivity while preserving employee privacy. Now with the Minim app, remote workers can organize their Minim-powered WiFi system into Home and Work networks, isolate untrusted devices, and selectively share visibility with their IT department for monitoring and troubleshooting.
"We're breaking down the barriers between consumer and business networking because that's our new reality," said Nicole Hayward, co-founder and CMO/CPO of Minim. "As businesses ask employees to take the office network home, IT assistance is needed to safeguard corporate data and continuity. Yet, employees don't want cumbersome equipment or Big Brother in their personal spaces. Now with Minim, businesses can protect and support their distributed network while providing a new-age employee perk— powerful, safe, and private home WiFi."
As 74% of CFOs intend to shift employees to remote work post-pandemic (Gartner), Minim has recently announced its partnership with leading technology distributor Telarus to deliver its unique AI-driven Bring Your Own Network™ solution. Now with Minim® Work-Life WiFi, complex network settings are made simple, and employee privacy is protected. Features include:

Network Labels: Create a unique SSID and password and label "Home" or "Work"
Private SSID: Make a Home network private, invisible to the employer
Device Isolation: Set an SSID to "Isolated" to block communications between devices
Read Only SSID: Prevent changes to the network settings for critical systems
Hidden SSID: Hide dedicated technician networks from the mobile app
No Broadcast SSID: Prevent dedicated technician networks from broadcasting
"In the home security and automation business, WiFi is critical to our operations," said Doug Curtiss, Founder and CEO of Alarm New England, a Minim customer and partner. "As we provide 24/7 service to some large and complex systems, WiFi is increasingly the infrastructure of choice. Here, Minim's new Read Only feature will allow us to draw a clear line between what is the customer's responsibility and the systems we are paid to manage. Additionally, we offer Minim to our remote employees and are proud to give them better tools to optimize and secure their WiFi for home and work."
Minim's services are hardware agnostic, granting customers a high degree of flexibility and price options— including the Minim-powered Motorola® MH7022 system, which boasts AC2200 Tri-Band WiFi at up to 6,000 ft of coverage. Minim Work-Life WiFi features vary by hardware platform. Businesses can find more information about Minim® Work-Life WiFi and request a platform demo at http://www.minim.co/remote.
About Minim
Minim® is a cloud WiFi management platform that enables and secures a better connected home. Minim's Software as a Service (SaaS) helps businesses create co-managed WiFi networks to explore device behavior, optimize the broadband connection, eliminate connectivity issues, and block cybersecurity threats. The company's self-learning platform employs proprietary fingerprinting and behavioral models to detect threats and performance issues without compromising privacy. Minim customers benefit from intuitive applications and hardware choice to improve the WiFi experience, leading to happy and productive homes and offices where things just work. The company is now partnering with ISPs, managed service providers, distributed businesses, and device manufacturers who want to help make home connectivity as safe and reliable as drinking water. To learn more, visit https://www.minim.co.
Contact
Nicole Hayward, 1.833.96.MINIM x 7001
nicole@minim.co