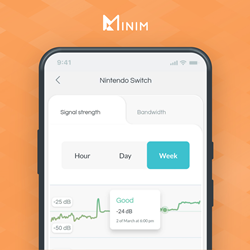 "We can't wait to see subscribers using the new app for self care, parental controls, and a better connected experience." — Josh Bixler, Owner and CEO at Elevated Wireless
MANCHESTER, N.H. (PRWEB) March 05, 2020
Minim, the AI-driven smart home security and managed WiFi platform, today unveils Minim® App 2.0, the first-ever app for service providers of all sizes to deliver a modern WiFi experience across diverse hardware platforms, rivaling leading retail solutions. In addition to its parental controls and security suite, the new app makes it easier for broadband subscribers to pinpoint connectivity issues through IoT device speed tests, network topology views by access point, and device signal strength diagnosis. App users can now also easily share their WiFi credentials with trusted guests over SMS and access more support channels.
"Our team has been counting down the days to the Minim App 2.0 release," said Josh Bixler, Owner and CEO at Elevated Wireless, a Minim customer and Wireless Internet Service Provider in Georgia. "A key reason we chose Minim is for its highly usable approach to home network security and management. We can't wait to see subscribers using the new app for self care, parental controls, and a better connected experience."
With the Minim App 2.0 release, customers who have a white-labeled application will also benefit from the design and functionality updates. The app has been developed to enable service providers to seamlessly deliver their own branded experience to their subscribers.
"App 2.0 has been made with care," said Nicole Hayward, Minim Founder and CMO/CPO. "We've drawn on customer feedback, our passion for simplicity, and the latest mobile design trends to make managing home WiFi easy. What's more, Minim App 2.0 promises a giant leap forward in user engagement. Users are encouraged to personalize and explore their smart home connectivity— not just when things go wrong, but when Minim makes them better."
Minim App 2.0 is part of the company's turnkey solution for service providers to boost revenue and customer satisfaction while lowering support costs and churn. The platform is hardware agnostic and provides automated network healing and protection. In addition to the mobile app, Minim offers a Care Portal for ISPs to gain unprecedented subscriber network visibility for faster call resolutions and proactive care.
Minim and its certified partners will be demonstrating Minim App 2.0 at the Wireless Internet Service Providers Association (WISPA) WISPAMERICA 2020 conference, to be held on March 16-19th in Dallas, TX. To learn more about Minim App 2.0, visit Minim at WISPAMERICA booth 631 or visit hello.minim.co/minim-app.
About Minim
Minim is a cloud WiFi management platform that enables and secures a better connected home. Minim's Software as a Service (SaaS) helps operators increase revenue and reduce support costs by offering a premium managed WiFi service to their subscribers via customer premise equipment of their choosing. Subscribers benefit from best-in-class customer support, an easy-to-use mobile app, parental controls, AI-powered network recommendations, and more. The company is now partnering with service providers and consumer device manufacturers who want to help make home connectivity as safe and reliable as drinking water. To learn more, visit https://www.minim.co.