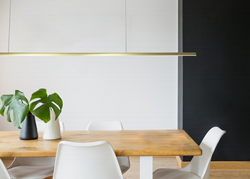 Amazing light quality from a slender linear LED pendant.
MILWAUKEE (PRWEB) October 30, 2020
"Our strategy was to scale down the cross section as far as we could, without having a significantly negative impact on performance or appearance of the illuminated diffuser," states Design Engineer Hans Nielsen. "You can only get so much light out of a small aperture before it becomes harsh to the eyes."
The Rae family includes models of 4, 6, and 8-foot nominal lengths, with the option for custom lengths in increments of 11 inches. The cross-section is a mere 1.375" wide and 1.25" high and the luminaire produces 375-750 lumens per foot, depending on the output level specified. Designers can choose a remote driver or a surface canopy driver.
Applications from this linear pendant family are wide, as many lighting designs include the suspended linear form factor to provide general ambient lighting. This pendant can be used as primary lighting throughout an office environment, or even arranged randomly as a large cluster to create a statement piece in a foyer space.
Other distinct design details, which give elegant simplicity to this unique linear form, include Visa Lighting's extensive standard powder coat finish options, their exclusive eco-friendly alternative metal finishes, and three braided nylon cord color options.