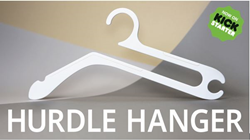 Hurdle Hanger features a unique insert design that allows you to hang any type of clothes in a snap.
COSTA MESA, Calif. (PRWEB) January 29, 2020
After successfully raising $200,000 for Hurdle Hanger for Pants through crowdfunding platforms Kickstarter, Indiegogo, and Wadiz, minimalist design brand Collabo Space has returned with its sophomore product, Hurdle Hanger.
The product, which launched on Kickstarter on January 21st, hit its funding goal in a mere 5 hours. 920 backers have pledged over $64,000 on the platform over the past week—already surpassing the $59,000 mark of the first campaign. The Hurdle Hanger campaign still has 36 days left before it ends.
Swen Hong, founder and CEO of Collabo Space, describes Hurdle Hanger as an innovative, all-purpose hanger. "We designed it with one goal in mind: to help you organize clothes quickly and easily. It may seem trivial, but organizing your closet can be a daunting task, especially since different clothes require different types of hangers. Like any other chore, it's something you want to get over with quickly. We know what that's like, and we believe Hurdle Hanger is the perfect tool to help you out."
The hanger, which Hong labels as a "one-second hanger" for its extreme ease of use, has several features that distinguish it from the average hanger in the market. He said, "Hurdle Hanger features a unique insert design that allows you to hang any type of clothes in a snap. What's cooler is it prevents the neckline of your tops from stretching." The hanger is also designed to hang clothes 2 to 3 inches higher than most hangers to create more storage space beneath. He added, "Another cool feature is the c-type hook, where you can hang your belt, or even extra clothes. And unlike most Flimsy hangers, Hurdle Hanger is made of high-quality ABS, a durable material used to make protective headgear. Not to mention that it includes slip-resistant strips to prevent your clothes from falling off."
Collabo Space will be manufacturing Hurdle Hanger in South Korea to "ensure quality and reliability". Hong looks forward to collaborating with journalists and influencers in promoting Hurdle Hanger, on which more information is available at Collabo Space's collabospace.kr [website __title__ ] and the company's official facebook.com/collabospace.eng [Facebook page __title__ ].