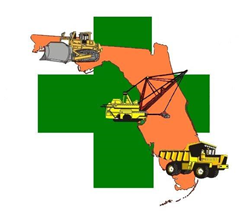 "It's a privilege to be among our industry's safety leaders who work hard to ensure miners return home safely at the end of each work day."
BARTOW, Fla. (PRWEB) March 28, 2019
Safety and health leaders in the mining industry were recently recognized for their contributions and accomplishments at the Florida Mine Safety & Health Association (FMSHA) Conference held March 6-7 at Polk State College in Bartow, Florida. FMSHA, which holds a conference each year centered around mine safety and health, awarded the Rising Safety Leader Award to Jeremy Stalnaker, a safety specialist at Mosaic Wingate Creek; the Outstanding Safety Contributor Award to W. Ben Hart, CMSP, of W. Ben Hart & Associates; and the Innovation Award to Curtis Peters, CMSP, superintendent of Bedrock Resources and Dixie Lime & Stone.
"We created this awards program to recognize mine-safety leaders and their contributions to the mining community," said Hart, who serves on FMSHA's Board of Directors. "It's a privilege to be among our industry's safety leaders who work hard to ensure miners return home safely at the end of each work day."
Stalnaker received the Rising Safety Leader Award for his eight years of contributions in mining safety. Stalnaker quickly moved his way up through the Mine Safety and Health Administration (MSHA) from an inspector to an incident investigator, and eventually a special investigator. He now works as a safety specialist at Wingate Creek Mine for Mosaic where he has developed a behavior-based safety program and continues his mining safety efforts.
Hart received the Outstanding Safety Contributor Award for his extensive contributions to MSHA safety training and auditing services. After retiring from 30-plus years of public service, Hart continued his efforts by beginning his safety and health consulting firm, W. Ben Hart & Associates.
Peters earned the Innovation Award with his design, fabrication and installation of a fall-prevention system for fuel truck drivers. Peters recognized a mining safety issue and was able to come up with an innovative and practical solution to the problem. His fall-prevention system has eliminated the fall hazard of the fueling process for many miners in the industry.
FMSHA focuses on promoting the health and safety aspects of the mining industry, sharing their expertise on the subject and providing educational opportunities to the community. FMSHA's conference is held each spring. For more information, please visit https://floridaminesafety.org