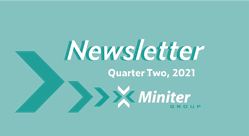 Jim Gilpin, EVP & COO of Miniter Group, comments today, "We are seeing a significant increase in newsletter subscribers each quarter and are happy to welcome new and current readers to the platform."
ROCKLAND, Mass. (PRWEB) April 09, 2021
The Miniter Group Q2, 2021 Newsletter Issue offers valuable information on Risk & Compliance, Force-Placed Insurance & COVID-19 and Insurance Tracking. Additionally, read into Miniter Group's rapid company expansion as they grow to be a leading provider of banking insurance within the industry.
Loan officers, compliance officers, and loan servicing professionals are highly encouraged to read Miniter Group's Q2 Newsletter, as it makes available the registration for the upcoming webinar on commercial insurance tracking.
Miniter depicts Force-Placement Frequency in 2019-2020 with a bar chart graph to analyze the pandemics impact. Read the newsletter today and see how COVID-19 effected force-placed insurance.
Miniter Group's Q2, 2021 Newsletter contains educative articles on the following features:

Tax Tracking Lender Services
Upcoming Commercial Insurance Tracking Webinar
COVID-19 & Force-Placed Insurance
Miniter Employee Promotions in 2021
FEMA Flood Insurance Regulation - "Risk Rating 2.0" White Paper
To subscribe to the Miniter Quarterly Newsletter, please visit our website at http://www.MINITER.COM and fill out the newsletter subscription form.
Or CLICK HERE to register.
Miniter Group is a leading provider of collateral risk transfer solutions to the lending industry, providing blanket and lender-placed insurance solutions to over 600 lenders in 41 states. Miniter's in-house software development team continues to work with lenders to enhance the fast-growing Borrower-CentricSM Insurance Tracking System. 
Miniter's solutions include Vendor Single Interest Insurance, Lender Placed Insurance, Collateral Protection Insurance, and Mortgage Impairment Insurance.
We invite you to call us at 1-800-MINITER or visit us on the web at http://www.miniter.com.
Media Contact:
Ava Capodanno
Marketing Specialist
Miniter Group
781-982-3100
http://www.miniter.com
SOURCE Miniter Group