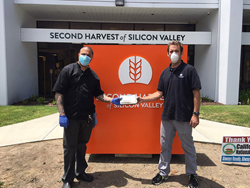 PALO ALTO, Calif. (PRWEB) August 18, 2020
Caffe Machiavello, a minority-owned family business in Palo Alto, California, responded to the recent increase in food insecure people by offering free meals to their local community. (The USDA defines food insecurity as "a lack of consistent access to enough food for an active, healthy life.")
Owner, Maria Neal, began the "Pay It Forward" program during the coronavirus lockdown, and the program has continued amid Santa Clara County's reopening.
Sponsors buy meals through the restaurant's website, and the restaurant then matches the number of meals and donates them to individuals or families who have requested a meal through the same website. These recipients have the option to submit requests anonymously, and there is no application necessary.
Caffe Machiavello is setting aside some of these sponsored meals for local organizations, including Second Harvest Food Bank of Silicon Valley, the Palo Alto Police Department and the Palo Alto Division of the Department of Veterans' Affairs, as well as churches, support groups and local chapters of Alcoholics Anonymous, among others.
"This strategy allows us to address a bigger need at a faster rate," said Rahsaan Dean, Neal's husband and Caffe Machiavello's chef. "With advance notice, I was able to cook 80 meals for Second Harvest."
Sponsors of the program are not just local. The program also has many sponsors in Colorado, including Panorama Consulting Group, an ERP and business transformation consulting firm owned by Neal's close friend of fifteen years, Vanessa Davison.
Vanessa grew up in Silicon Valley and has a history of helping businesses undergo turnaround and restructuring initiatives to weather difficult times.
"When Maria reached out to me to sponsor the program, it was a no-brainer given my roots in the community as well as my passion for creative ways to be engaged," said Davison. "We work with many private equity firms and venture lenders in Silicon Valley as well, which allows us to reach out to this powerful network to also engage as a sponsor and help support the community."
Like many of their meal recipients, Neal's family – including herself, her husband and their four children – have been financially impacted by the global crisis. However, as a cancer and bilateral kidney transplant survivor, Neal wants to give back to the community.
"As a fellow Latino woman, Vanessa has been one of my biggest supporters during my health issues," said Neal. "Partnering on this program is our way as Latino women to come together once again to not only do business together but help Americans get through this."
Neal is looking for more partners like Panorama Consulting Group so the restaurant can reach its goal of feeding 500 people a day. In addition to donating meals, Panorama is helping the restaurant in their marketing efforts aimed at the ultimate objective of feeding 25,000 people. As of August 18, the restaurant had provided a total of 387 meals.
To become a sponsor or request a meal, interested parties can visit the online ordering section of Caffe Machiavello's website and click "Pay It Forward."