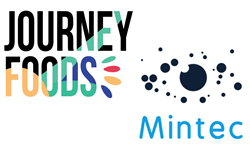 We're incredibly pleased to offer our clientele the additional game changing technology that Journey Foods adds. - Spencer Wicks, CEO of Mintec Global
LONDON (PRWEB) November 10, 2021
London-based Mintec, the global commodities price analytics company, today announced it will be integrating US startup Journey Foods, a leading innovation technology platform. The new pairing will create a number of added benefits and features for those who already use the Mintec software, driving increased accuracy and providing additional benefits that until now, were not even imaginable to those in the space. Mintec has been used by leading brands for nearly four decades and allows companies to change the way they control costs by recommending timely buying suggestions and delivering accurate price forecasts.
However, there is always room for innovation to improve current methods and this is where Journey Foods comes into play. With an expansive database and cutting-edge technology that draws on AI, machine learning, and a customized algorithm, the Austin-based food tech company will now be integrated into the Mintec software to not only accelerate insights for its customers, but also improve nutrition and sustainability information as well. Because of Journey Foods' extensive data play, it will also be able to aid on the prediction side too, helping Mintec on the supply chain and cost forecasts. This means the pairing between API and cost data leaders can help thousands upon thousands of companies.
"We're incredibly pleased to offer our clientele the additional game changing technology that Journey Foods adds. It's in alignment with all that we stand for as a company and is truly remarkable," said Spencer Wicks, CEO of Mintec.
Continued Riana Lynn, CEO and Founder of Journey Foods, "As a mission-driven company, we know that to create our ultimate impact, we will always need partnerships. So, to partner with a global leader like Mintec is truly an exciting and monumental moment for us and we couldn't be more proud."
Mintec can predict short and long-term price forecasts and allows companies all across the value chain a view of comprehensive key commodity markets and price evolution. And as the current supply chain issues persist, this technology has become ever-more important. Now, with Journey Foods' integration, this can also be utilized for the innovation side even further, allowing companies to cut costs, save time, and increase precision during the product development and innovation processes.
For more information, please visit: http://journeyfoods.io/ or http://www.mintecglobal.com
About Journey Foods: Journey Foods has developed the world's leading product development platform to create a more efficient and sustainable global food system. It solves food science and supply chain inefficiencies with highly specialized software in order to help companies of all sizes feed 8 billion people better. From nutrition to sustainability, cost and packaging recommendations, Journey Foods takes cutting-edge AI, machine learning, and its highly actionable database, to greatly reduce the time and costs typically required in the product development and product improvement processes. Journey Foods has worked with a vast array of companies, from leading Fortune 500's to innovative startups. Founded in 2018 by serial entrepreneur, Riana Lynn, it has raised $5M to date from various investors including Ascend, Capital Factory, Backstage Capital, SOSV, Chloe Capital, Springtime, and others. Journey Foods is headquartered in Austin, TX with additional office locations in Vancouver, BC, and Hong Kong.
About Mintec: Mintec enables the world's largest food and manufacturing brands to implement more efficient and sustainable procurement strategies. We do this through our cutting-edge SaaS platform, Mintec Analytics, which delivers market prices and analysis for more than 15,000 food ingredients and associated industrial materials. Our data and tools empower our customers to understand prices better, analyse their spend and negotiate with confidence.
Press Contacts
Journey Foods:
Morgan Oliveira
morgan@groundedetc.com
+1 415 515 8078
Mintec:
David Bateman
david.bateman@mintecglobal.com
+44 168 642762