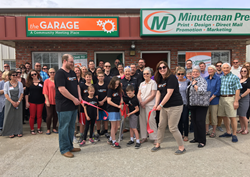 The new facility includes The Garage, a community meeting space available for free to non-profits, referral groups, training, and community meetings during business hours.
LAWRENCE, Kan. (PRWEB) May 02, 2017
The Minuteman Press franchise in Lawrence, KS has been owned and operated by Dee Bisel for over 24 years. Dee is a member of the Minuteman Press International President's Club for top performers thanks to the hard work that she and her dedicated team have put in to build their business. To celebrate their relocation to their new facility at 1404 E. 24th Street, Suite B, Dee and her team held a ribbon-cutting ceremony on April 13, 2017, in conjunction with the Lawrence Chamber of Commerce. The event was attended by friends, family, staff, customers, and members of the community. Also on hand was Kevin Dunaway, Minuteman Press International Field Representative for the St. Louis region.
The Lawrence, KS design, print, and marketing center moved from the west to the east side of town in 2015, and in recent months they expanded to take over the adjoining suite. The company moved its large format printing equipment to the back of the new suite and decided to offer the front portion to the Lawrence community. Minuteman Press named it The Garage, a community meeting space available for free to non-profits, referral groups, training, and community meetings during business hours.
For this event, Dee Bisel and her team gave away door prizes, gift bags, and raffled off a free pop-up banner. "I'd like to congratulate Dee and her fantastic staff on a successful relocation as well as their continued efforts to give back to the community," added Matt Peretz, Minuteman Press International Regional Vice President for the St. Louis region.
For more information on Minuteman Press in Lawrence, Kansas, call 785-842-2656 or visit their website: http://www.minutemanlawrence.com
About Minuteman Press International
Minuteman Press International is a number one rated business marketing and printing franchise that offers world class training and unparalleled ongoing local support. Started in 1973 by Roy Titus and his son Bob, Minuteman Press began franchising in 1975 and has grown to over 950 business service franchise locations worldwide including the U.S., Australia, Canada, South Africa, and the United Kingdom. Minuteman Press is ranked #1 in category by Entrepreneur 25 times and 14 years in a row, including 2017. Franchise Business Review has also named Minuteman Press International to its 2017 Top Franchises and 2017 Top B2B Franchises lists thanks to positive feedback and reviews from owners.
At Minuteman Press, we are the modern printing industry, providing high quality products and services that meet the needs of today's business professionals and go way beyond ink on paper. Today, our centers offer innovative branding solutions and produce custom designs, promotional products, branded apparel, direct mail marketing, large format printing (banners and posters), signs, and much more. Prior experience is not necessary to own and operate a successful Minuteman Press franchise.
To learn about Minuteman Press franchise opportunities and access Minuteman Press franchise reviews, visit http://www.minutemanpressfranchise.com or call 1-800-645-3006 for more information.