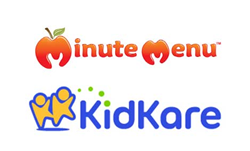 I couldn't be prouder of our new partnership with Alpine Investors. They are truly a great match for our company because they share our values, understand the importance of our mission -- Natalie Clark, COO
Richardson, TX (PRWEB) April 11, 2017
Minute Menu Systems, the leader in Child and Adult Care Food Program (CACFP) management software with over 600 sponsor organization customers, announced today that it has partnered with Alpine Investors V, LP ("Alpine Investors"), a values-driven private equity firm with a mission to build enduring software companies. 
The partnership with Alpine Investors will enable Minute Menu to fulfill its mission to continue to deliver the most comprehensive CACFP solution to America's childcare sponsor organizations and providers. It will also support the company's goals to expand into other childcare markets with its new childcare management SaaS offering, KidKare, and to invest in its software modernization efforts with a focus on customer experience for its products.
A history of success in offering innovative solutions for childcare providers
Since 1993, Minute Menu Systems has provided unparalleled opportunities to CACFP sponsors and childcare providers, delivering valuable business tools and offering truly dedicated support and customer service to its clients. Minute Menu has steadily grown by focusing on quality service to loyal, unwavering customers, and by building a team committed to investing their unique talents into the company's mission and culture. As a result, Minute Menu is the leading provider of software solutions for the CACFP community today.
"I couldn't be prouder of our new partnership with Alpine Investors. They are truly a great match for our company because they share our values, understand the importance of our mission and were willing to invest in us to further realize our potential to improve the lives of our customers," said Natalie Clark, Chief Operating Officer and Board Member. "We will continue to fulfill our commitment to the CACFP community, and accelerate our product roadmap with new and enhanced solutions for the childcare markets we serve." Through her 20+ years at the company, Natalie has become a leader within the CACFP community, serving on the USDA's CACFP Paperwork Reduction Work Group and presenting at multiple National CACFP conferences.
"I am incredibly excited to join Minute Menu Systems, and look forward to working closely with Natalie and her team to help grow the business," said newly appointed Chief Executive Officer, Matt Wilson. "Like many American children today, I was the son of working parents and grew up in the childcare system. I am thrilled to contribute to the Minute Menu mission of enabling CACFP sponsors and childcare providers toward their goal to provide nutrition and care to our nation's children."
Matt, part of Alpine Investors' PeopleFirst™ program and a passionate advocate of its PeopleFirst™ principles, operational best practices, and commitment to forming long-lasting partnerships, has assumed the role of CEO at Minute Menu. He has over a decade of leadership experience and an MBA from Northwestern's Kellogg School of Management.
About Alpine Investors
Alpine Investors is a values-driven private equity firm with a mission to build enduring companies by working with, learning from and developing exceptional people. Alpine specializes in middle-market companies in the software, online and business services industries. For more information, visit http://www.alpine-investors.com.
About Minute Menu
Minute Menu Systems (minutemenu.com) provides software solutions to meet the business management and Food Program needs of all aspects of the childcare community. Over 100,000 family- and center-based childcare providers use Minute Menu products each month to track and report Child and Adult Care Food Program reimbursement data to sponsors and state agencies. Currently, Minute Menu has nearly 600 sponsors in over 48 states using the Minute Menu HX software to facilitate monthly family provider claims, and more than 6,000 childcare centers using Minute Menu CX. Minute Menu also offers KidKare, an affordable SaaS-based childcare management solution that is specifically designed for family childcare providers. For more information, visit http://www.minutemenu.com and http://www.kidkare.com.